Japanese soup ramen, on triple broth, with hoisin chicken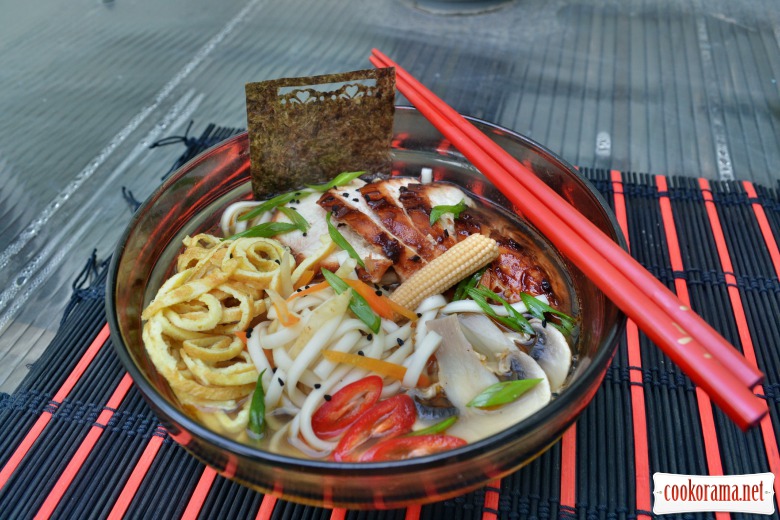 Ingridients
100 ml
100 ml
100 ml
10 шт.
150 g.
30 g.
20 g.
20 g.
1 шт.
80 g.
1 шт.
1 tsp.
Preparation
Let's start with broths. I advise to cook beef on bones. Chicken one from leg bones, I usually use pulp for shawarma, and bones for broth. And that`s how I made fish one: Pour some oil in saucepan, and fry shrimp shells (I cleaned at work 2 kilo of tiger shrimps, and decided to take shells for broth), fry for 15 min, at first they`ll be rose, then darker, they should be slightly crisp, add some garlic, and in a minute pour Chinese wine, usual sherry. Evaporate wine, and pour water. Boil for 40 min. In 5 min to readiness I added pinch of tuna slices, and cut half of nori sheet. Salt, pepper, coriander. We finished with broths.
Instead of salt I rub chicken fillet with oyster sauce (you can replace with soy), and smear well with hoisin sauce. This is the sauce, in which is marinated Peking duck. It is sold in glass jars. If you do not find, marinate chicken in something else. I advice this variant: honey, soy sauce, oil, ground coriander, garlic. So, bake chicken at 170℃ for 20 min.
Boil noodles, wash it. Strain fish broth and mix with chicken and beef one, put on heat, add onion, carrot, celery, mushrooms. In 10 min remove from heat. Whisk egg, salt it, fry omelet, let it cool, wrap in tube, cut perpendicularly.
Spread noodles in plates, pour broth, put chicken slices, omelet. I decorated soup with mini corn, nori leave, 3 slices of hot pepper, black sesame, green onion.
Bon Appetite!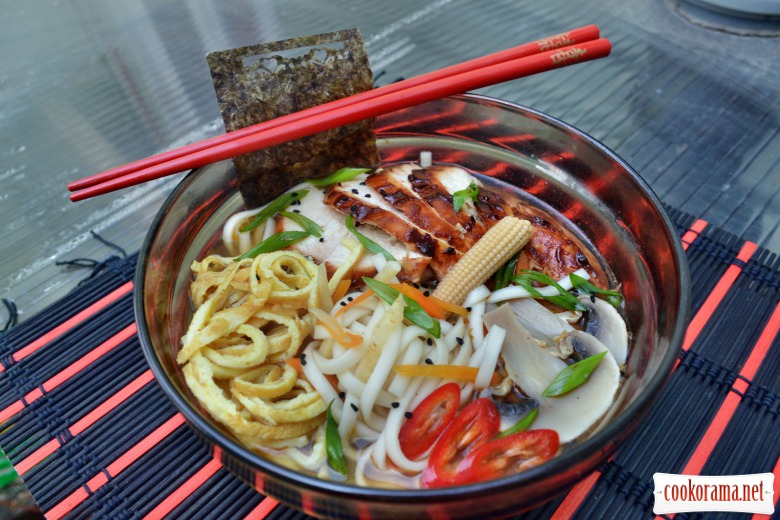 Top of recipe "Japanese soup ramen, on triple broth, with hoisin chicken"