Meat feast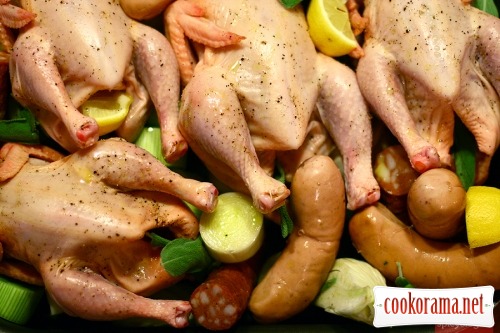 Ingridients
4 шт.
4 шт.
4 шт.
2 шт.
1 шт.
2 шт.
1 шт.
1 bunch
We did not always have the opportunity to put a lot of effort and spend a lot of time for dinner, even if it is for guests. Festive table may burst with all sorts of hot and cold appetizers, salads, soups and other things, but evening would have gained much more charm if in front of guests was a big, steaming dish, in which were baked and friendly browned meat and all kinds of vegetables. The whole dinner being prepared at the same time, in the same pot, set and forget. And the guests do not necessarily know that you did nothing for such a beauty.


Preparation
Heat the oven to maximum.
Very rude and coarsely chop fennel, chop leek into large rings, leave heads of garlic untouched. Sprinkle the bottom of a large deep baking dish with olive oil. Put in a bowl vegetables, pepper, salt and mix.
Vigorously rub each chicken with salt and pepper, tuck into a pair of of sage leaves. Place the chicken among the vegetables, not too burying them, otherwise they would not browned. Similarly, spread on the pot wieners and sausages (If desired cover the chicken with vegetables a couple of slices of bacon, but I decided it would be too fatly).
Tear sage leaves by hands and throw to the rest. At the bottom of the dish pour a cup of water (can be white wine). The following is cut into slices lemon, some salt and pepper over the sausages and a couple of tablespoons of olive oil on top for friendly, brilliant effect.
Then put in the oven, ans turn temperature at 180°C. While the temperature will fall on chickens produced appetizing golden brown.
Forget about dinner for 45 min, do all the work, then check golden brown chickens, softness and sweetness of fruit and juice on the bottom. If that all present, call guests to the table, if not yet, just return dish in the oven for 10-15 minutes.
Garnish would fit perfectly by potatoes, whether baked, fried, or in the form of
gratin
.