Irish stew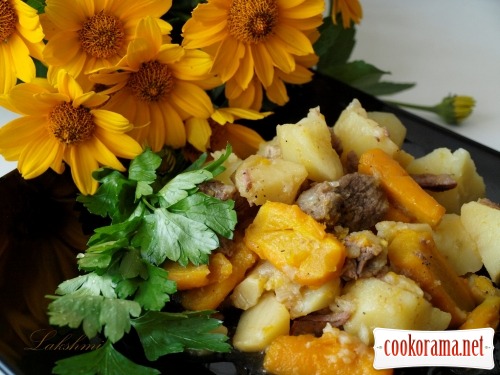 Ingridients
500-1000 g.
2 шт.
4-5 шт.
1,2-1,5 kg

Irish ordering any dish, in addition to any side dish, be it rice, pasta or something else, ask for their favorite potatoes.

Preparation
Dice meat and put in heated pan, fry it.
Add water and put sliced onion and at first cut along carrot, and than in 3 parts.
Secret of Irish stew: put HALF of diced potato to meat with vegetables.
Bring to a boil, salt and let it cook over low heat.
Stew for about 45-60 min till meat readiness.Then add another part of cut in larger pieces potato and let it boil.
Potatoe, which was laid earlier falls apart and thus you have a thick sauce with meat and potatoes.
Very tasty!