Homemade cooked sausage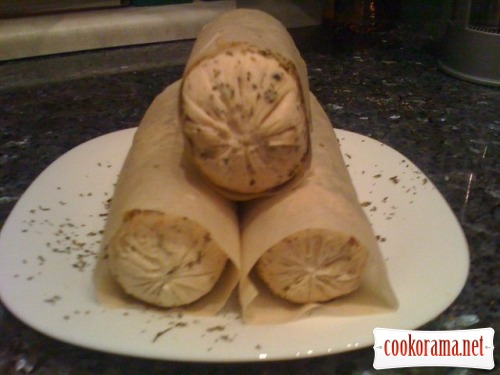 Ingridients
350 g.
350 g.
300 ml
3 шт.
I do not trust shop sausage, but child lovessausage — so was born such dish, it combines two recipes- cooking method of French pate and shape from home Kupat. Got this very tender and tasty sausage…

Preparation
1. Cool meat strongly,  then grind in a blender or mince with a fine grid. The mass should be smooth and almost creamy. Add to mince whites,  freshly ground pepper and salt. Mix in a blender.
2. Pour into a bowl with minced meat cold cream and stir to homogeneity.
3. Put on the table a rectangular piece of plastic wrap, spread on it 1/3 of mince,
wrap the edges of the film so as to obtain a roll. Tie the ends well (I use cotton rope of 0,5 сm)Do the same for another 2 times. You get 3 small sausages.
4. Pour water in saucepan and put on heat, bring to a boil, уменьшаем reduce heat to minimum. Water should not boil!!! Put sausages in  hot water
And press them  with saucer or something heavy, not allow them floating.
Boil for an hour.
5. Remove sausages from water, cool them. Remove film. Spread on table pieces of parchment paper, sprinkle with any dried herbsa (I use basil and dill). Put sausage on greens and wrap it. The surface should be evenly covered with sprinkling. Repeat this procedure for each sausage.
Put in the fridge for 6-8 hours, ideally for a night. Before serving remove paper and cut  in thin slices.
This sausage can be stored in the refrigerator for 5 days.