Canapes for the beloved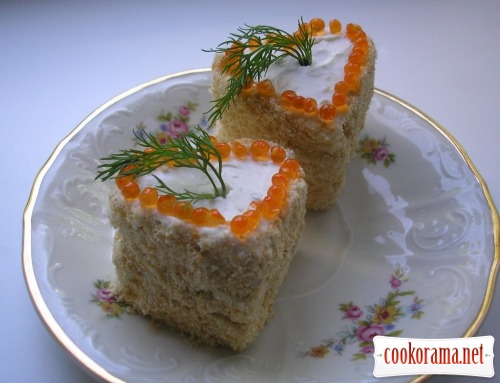 Ingridients
Preparation
Crushed crackers into crumbs with blender or rub on a grater.
Slice hard cheese. Slice cucumber. From bread and hard cheese press out hearts with the help of molds for cookies.
On a slice of bread we smear cheese. Put cucumber on top, smear it with some cheese. Then hard cheese, and again cucumber a bit smeared with cheese. And another slice of cheese. Spread well smeared with cheese slice of bread last.
Pierce canapé in the middle with toothpick and, holding it, smear this construction from all sides with cheese. And then roll sides in cracker crumbs.
Now remove toothpick, decorate on sides with red caviar, and in hole, from toohpick, put spring or dill or parsley.