Orange-lemon Easter cake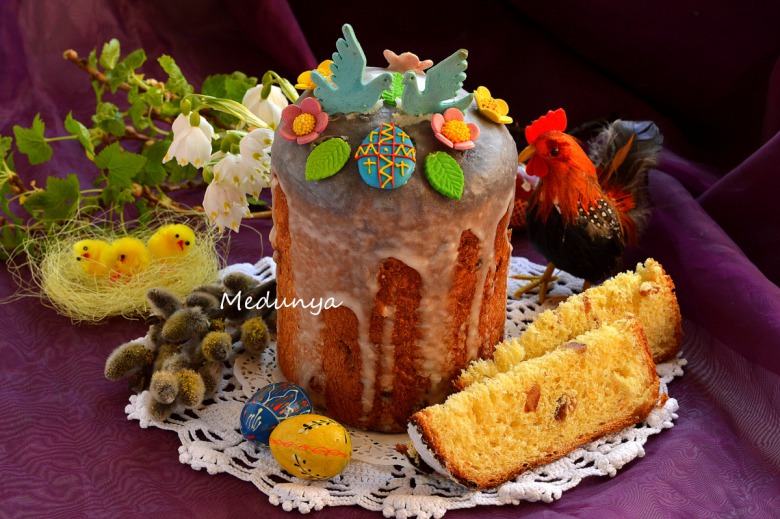 Ingridients
3 шт.
125 ml
125 ml
1 шт.
1 шт.
75 g.
510 g.
20 g.
1/2 glass
1/2 glass
25 g.
1 tsp.
1/4 glass
100 g.
Very tasty Easter cake! You will be extremely pleased with it — soft, plump, yellow. And how fragrant it is. However, it will take plenty of time for preparation — dough infuses very long, 2 times. But it will turn out delicious that you will remember it all year. It is worth the effort invested in it! Result- 3 medium belts.


PREPARATION
Combine warm water, milk and yeast (liquid temperature — 40 ℃). In 5 minutes, put 4 tablespoons flour and 1 tablespoon of sugar and send in a warm place for 30 minutes. Mix eggs, sugar, vanilla sugar and zest of orange and lemon.Combine with yeast mass. Combine portions of flour, salt and soft butter. Knead dough. Knead dough by hands, at least 10-12 minutes.
Add washed and chopped candied fruit, dried rolled in flour and raisins. Knead dough for 1 minute more.
Form dough into a ball, oil the top. Cover with a towel in a large bowl and put in a warm place for 3-4 hours. Dough should grow in three times.
Knead dough again. Put portions in well greased with butter or covered with parchment paper forms, fill forms at 1\3 of volume. Grease top with oil, cover and put in warm place for 2-3 h. Dough should increase in 3 times.
Grease top with mixed egg and bake at 170℃ for 45 min. If cake browns on top a lot — top with parchment paper.
Remove ready Easter cake from oven and wait for 10-15 min. Next, remove from form and put it on side till complete cooling.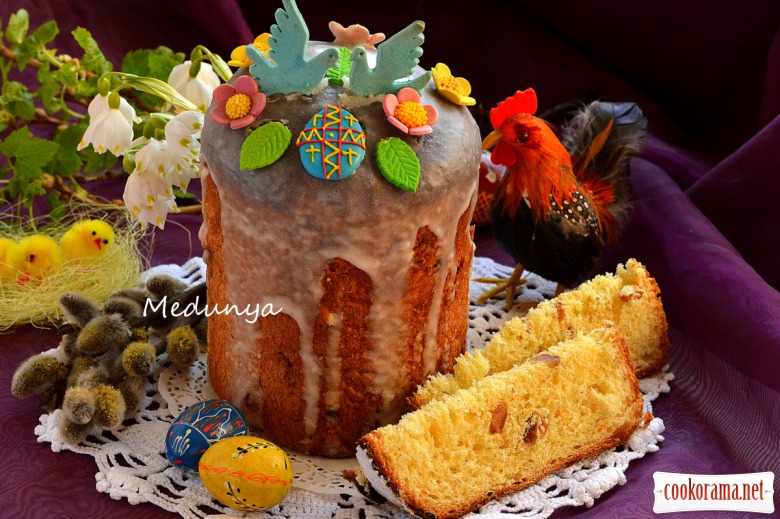 Bon Appetite!
3004

10 April 2015, 22:03