Strudel with chicken, mushrooms and cheese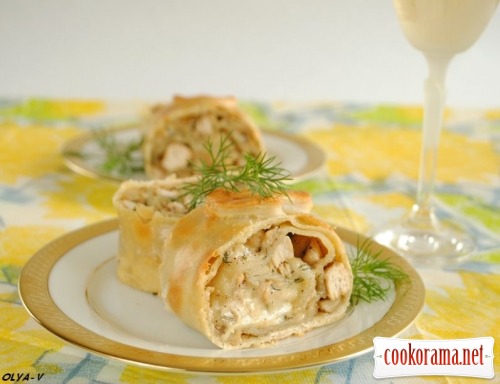 Ingridients
Dough
2 glass
1 шт.
0,25 tsp.
100 g.
2 spoon
1 tsp.
Filling
0,5 шт.
300 g.
4 spoon
100 g.
4 spoon


If you do not want to bother with pull dough you can take puff without yeast, roll it thinly and then all by recipe. It turns out also very tasty, but with more calories and more nourishing.

Preparation
Mix in deep bowl 1.5 glass of flour with salt, make a recess in the middle, add egg, butter and lemon juice, mix it, then gradually pouring water and stirring, knead not sticky dough. Sprinkle table with flour, shift all dough on it, knead for 5 min, adding until dough will not stick to hands, then hit dough a few times on the table, to make it very elastic.
Then cover dough with something and let it rest for 30 min.
Spread clean cloth or napkin on the table, sprinkle it with flour well. At first knead dough, turning from one side to other and sprinkling cloth with flour.
Then stretch and roll again, then just pull from the middle to the sides, until the dough is almost transparent, only carefully, not to tear it. Сut off unnecessary edges which remained thickish.
Cut prepared mushrooms, dice fillet.
Fry mushrooms in pan with oil, when liquid evaporates in half add fillet, salt, some pepper and chopped dill, cook stirring, till all liquid evaporates, then fry a bit, you can add some oil, pour cream, and stew till the soak in mushrooms with meat.
Shift stuffing in bowl, when it cools a bit, add grated cheese and mix.
Cover baking sheet with oiled baking paper. Heat the oven at 200-220 C.
Grease rolled dough with melted butter, evenly spread the stuffing, make a roll, pinch the edges and tuck underneath, gently shift the roll on a baking sheet seam down, grease with melted butte.
Bake strudel until golden brown. Cool it.
Bon Appetite!