Strudel with apples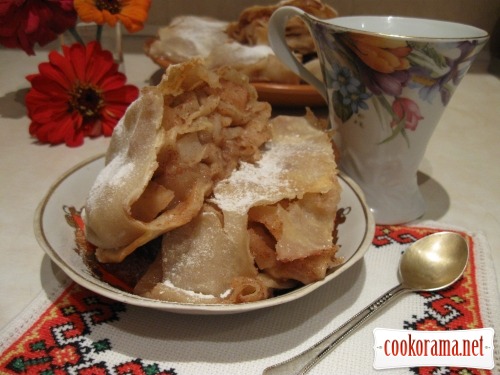 Ingridients
Dough
500 g.
1 шт.
200 ml
2-3 g.
Filling
2-3 kg
3 spoon
3-5 spoon
7 spoon
35 g.
My grandma baked such strudel. Taste of childhood

I like it very much and it is prepared quite fast.

Preparation
Pour in bowl flour, salt, add egg, and addinf water knead dough, as for pies.
Cover with towel and peel and slice apples
Divide dough in 3 parts
Roll the first part of dough into rectangular about 1 mm thick, shift on towel, do the same with 2nd and 3rd parts. Take the first layer of dough, put on table, carefully stretch a bit, sprinkle bread crumbs (1 tbsp, maybe less, put pieces of butter
Add to apples sugar, cinnamon, crackers. Mix quickly
and put 1/3 on 1st layer of dough, spread it
And make a roll, pinch the edges.
Fold the same way two other layers of dough into rolls. Grease baking sheet with lard and spread strudel. Put on top few pieces of butter.
Bake in oven at 180-200℃ till readiness.
Take out from oven and cut in portion pieces still hot strudel
After cooling spread on plate, sprinkle with sugar powder.
Bon Appetite