Baked trout with shrimps and cream sauce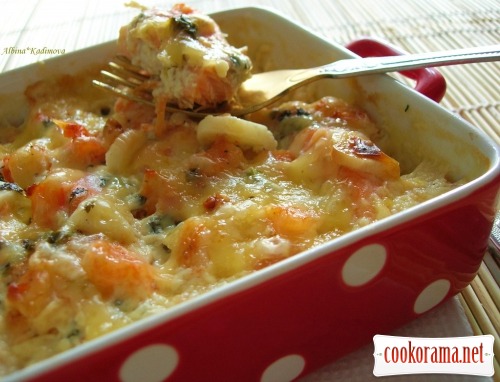 Ingridients
1 шт.
500 g.
1 l
2 spoon
2 spoon
Preparation
Cut trout in portion pieces, remove bones. Clean shrimps and also cut in pieces. Cut carrot and onion in thin strips.
At first spread in form carrot and layers of onion. Then fish and shrimps, chopped garlic.
Prepare sauce
Heat cream, add salt, pepper, put butter and flour with chopped Bulgarian pepper. Mix all well, to avoid clumps and mix on fire, to thicken a mass. Remove from heat, add Provence herbs and generously pour fish and shrimps… Put all in heated oven at 200 degrees for 20 min, then take it out, sprinkle with cheese and again in the oven till golden crisp of cheese)))
Bon Appetite!!!