Pancakes with apple-lemon cream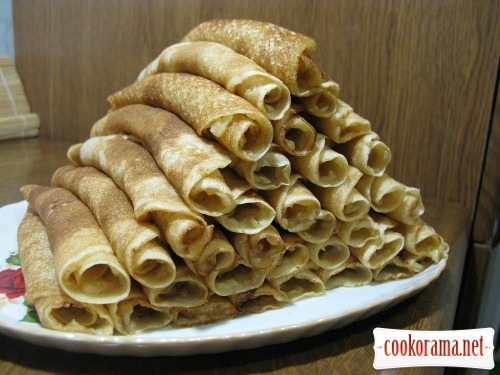 Ingridients
Dough
1 glass
1 glass
4 шт.
80 ml
3 spoon
2-3 glass
1 tsp.
0,5 tsp.
Cream
1 kg
100-200 g.
50-100 g.
2 spoon
2 tsp.
3 spoon
Preparation
Pancakes
Combine all dry ingredients (only 2tbsp of flour), mix it.
Gradually pour mixture of milk and water, mix well, to avoid clumps.
Mix eggs with sugar, add in dough, mix well.
Now, if necessary, gradually add rest of dough, at the end add oil.
Dough should be thick, but beautifully poured in the pan.
Heat the pan well, grease with oil only the first time and bake our pancakes as usual.
Pile them up, when all the pancakes are baked, wrap them in bag, to steam them.
Cream
Cream I saw
here
, for which many thanks to the author.
Wash apples,peel and grate them.
Spread in pan and stew on medium heat.
Meanwhile pour in other pan cinnamon and heat it for a few seconds.
Add flour, sugar,
mix and add to apples,
mix and stew for 10 min, constantly stirring.
Let it cool a bit, add butter and curd, mix, the cream is ready.
Spread spoon of cream on each pancake, smear all over the surface and make a roll.
U served with ice-cream, which spread on slightly heated in microwave pancakes.
Bon Appetite

The recipe of pancakes is basic, very simple and easy, pancakes are always good, completely breaking the myth of the first pancake is always a flop.
Also pancakes can be made only with milk — they will be more tasty. When do only in the water, they are puffier.
Who has the time, you can separately mix egg whites and then add to the flour, then the cakes are puffier.
Oil must be added at the end, otherwise the pancakes will be tough.