Cake "Cherry"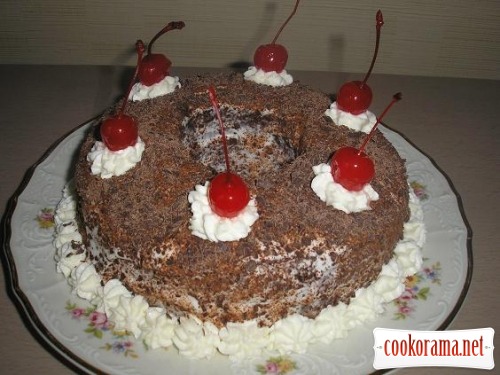 Ingridients
Biscuit
3 шт.
0,5 glass
0,5 glass
10 g.
10 g.
1 spoon
Cream
50 g.

cottage cheese bar (sweet)

2 шт.
400 ml

Products are calculated on form with a diameter of 20сm.
For cream and decor: 50 g of dark chocolate, canned cherries, frozen seedless cherries, Baileys liqueur, 2 sweet child cheeses, 400 ml of sour cream.

Preparation
Mix flour, sugar, baking powder, vanilla sugar and cocoa.
Mix eggs. Mix all the ingredients for biscuit. Pour dough in split form in shape of ring.
Bake at 180℃ for about 20-30 min. Meanwhile prepare cream. Mix sour cream with sugar, using mixer. Grate chocolate.
Cut cooled ring on 2 flat cakes. Soak upper cake from inside with Baileys liqueur (of course, if cake is not for children).
Smear lower cake with cream and spread on top defrosted cherries.
Cover with upper cake. Smear all the cake with cream. Sprinkle the cake with chocolate.
I decorated cake with pressed from culinary syringe child`s cheese and canned cherries.