Homemade noodles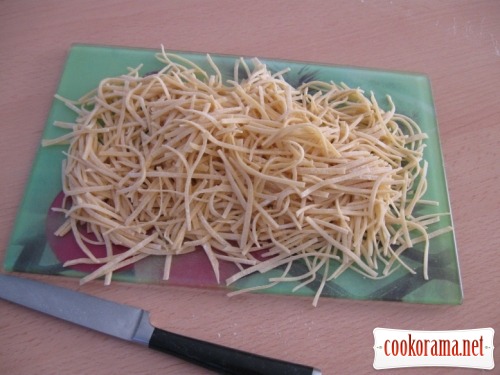 Ingridients
Preparation
Sift flour in bowl, add eggs, salt.
Knead tight dough.
Let it stand for 10 min. (you can use just yolks instead of eggs. according to a volume of flour you need more yolks, but noodle is tastier)
Divide in 2-3 parts. Roll each of them in thin layer (about 1 mm thick).
Let dough dry a bit. Sprinkle with flour before cutting.
There are few kinds of cutting. You can cut layer of dough in strips of 5-8 сm wide, fold 4-6 strips one on one and cut noodles.
Or wrap dough in roll and cut. Then noodle is longer.
Spread cut noodles on cloth and let it dry.
You can keep dry noodles longer in clean, dry and airtight container.
Home cooked noodles can be used in a variety of casseroles, served with soup from poultry or with milk.