Varenyky from pots in mushroom gravy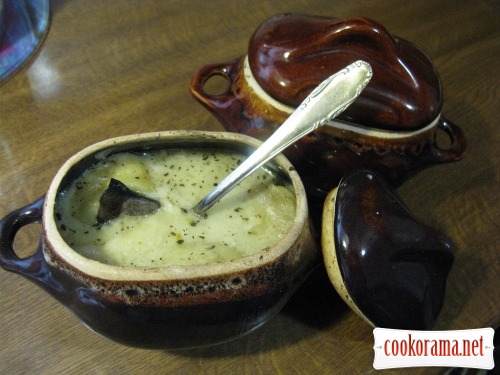 Ingridients
Dough
1 glass
3-4 glass
1 шт.
0,5 tsp.
1-2 spoon
Filling
700 g.
1 шт.
1 шт.
Gravy
1 glass
1 шт.
1 glass
1 l
Preparation
Knead dough from all the ingredients, as for varenyky.
For stuffing, boil potatoes, cool a bit.
Fry onion, add all the rest and stir well.
Mold vareniki, with your favorite method, I like to press varenyky with glass.
Cover varenyky and prepare gravy.
Chop onion and fry.
Add mushrooms, fry together a bit.
Add sour cream and spices, stew covered with lid.
Heat the oven at 180 — 200℃.
Put vareniki in pots, I got 9 — 10 vareniki in a pot, but I think, it`s a big portion for one.
Fill pots with varenyky at 2/3.
Pour with warm gravy.
Boil broth and pour our varenyky, do not pour to the top.
And in the oven.
Cook till readiness, about 30 min.
Bon Appetite to all

If to change recipe a bit and make it lenten, you`ll get interesting variant of serving varenyky with mushroom gravy on Christmas Eve.
680

27 December 2010, 11:05