Slightly untraditional curd cake with apples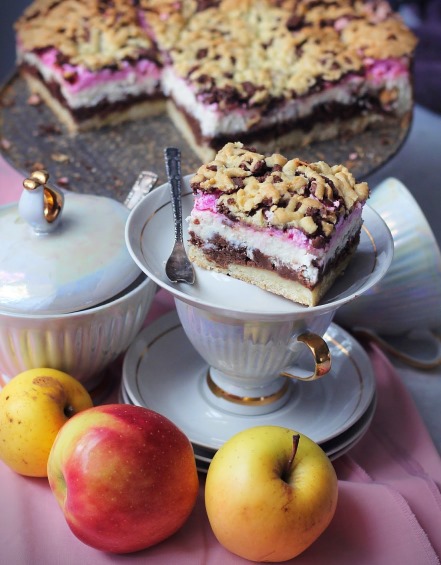 Ingridients
140 g.
4 шт.
1 glass
3 glass
1 шт.
3 spoon
2 tsp.
1 шт.
500-600 g.
1 tsp.
2 tsp.
1/2 шт.
I baked in traditional round cake form with a diameter of 28 cm and 8 cm in height — the height of the form is very important because at first curd fritter is high, then falls, then rises again. Then again falls slightly as stand up. So remember this.

Preparation
I divided ingredients as follows, for dough:
(you can do everything together and divide, I made separately white and chocolate)
For chocolate one:
— 70 g of butter (took homemade, you may need slightly more store margarine)
— 1 yolk+ half of egg ( I mixed one egg, divided with spoon – half in white dough, half in chocolate one)
— 1/3 gl of sugar
— 1,5 gl of flour (approximately — depending on the egg size and consistency of dough by kneading)
— baking powder (Depending on the manufacturer should count proportion to the weight of flour, approximately half of package, or you can always use soda slaked with vinegar)
— 3 tbsp of cocoa
— tsp of homemade sour cream (full)
For white one:
all the same but instead of cocoa you need more flour
Stuffing:
— 1 big apple
— 550-600 g of curd (I was afraid to take more, because of the bad baking possibility, but you can try to take more — if the depth of form allows)
— 1 egg (if you use 2 – also good)
— package of vanilla sugar
— 1 tsp of starch
— 2 tsp of semolina
— half package of kissel (I used cherry — raspberry is sooo sweet)
— 2 whites, which remained from eggs for dough +1/3 gl of sugar
Baing time- 80-90 min at 180-200 C (depends on your oven)
Prepare dough – mix room temperature butter with sugar, next add egg, mix yolk and sour cream into smooth mass. Next – baking powder, cocoa (in white dough just skip this step) and flour. Add flour gradually, when you knead dough – add flour, till it becomes not stivky and «wet» – it should be tight and at the same time elastic. Put dough in bags for 40-60 min un the freezer.
Grind curd with egg in blender, add vanilla, semolina and starch. I didn`t add sugar to curd, but if you are fan of sweet — add 2-3 tbsp, and, in my opinion, rest of ingredients sre quiet sweet, so curd softly dilutes luscious taste.
Mix whites with sugar into foam, continue to stir adding kissel (but you should prepare whites directly before they are spread in form).
Grease form with butter and and sprinkle with grated crumbs or flour. На Grate white dough at the bottom (leave a bit for a top), top with peeled apple (if to add a lot of apple – you`ll get jam, which will make lower dough wet and juice can flow through the edges of form if it is split one), then grate dark dough(also, leave a little for the top), then put curd mass, on top — white with kissel, next grate with remnants of dough.
Apples can be replaced with cherries (not frozen, but boiled, previously rejected in colander or cheesecloth — to avoid excessive moisture). Let the ready pie to cool to in form, and ideally — stand at least 3-4 hours in cold. If possible — leave overnight.
Top of recipe "Slightly untraditional curd cake with apples"
804

24 March 2015, 22:13