Nut cake with caramelized apples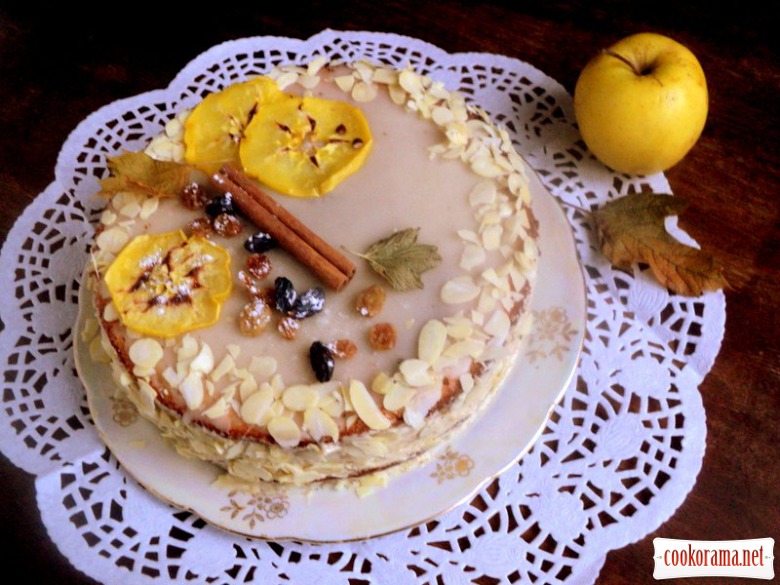 Ingridients
Ingridients
4 шт.
120 g.
70 g.
30 g.
25 g.
30 g.
Apple filling
2 шт.
25 g.
20 g.
1 tsp.
Cream
2 шт.
80 g.
100 g.
50 ml
25 g.
1 шт.
1 spoon
Glaze
100 g.
1 spoon
1-2 spoon
Decoration
100 g.
1 шт.
1 spoon
For the second week with pleasure enjoy fellowship with book by Irina Chadeeva «Preparation of pies». Gift book design, 60 great baking recipes with color step by step photos. It is easy to cook by recipes, as description reflects the nuances of cooking. Of course I wanted to try to cook almost everything! And the first tested recipe became a nut cake with caramelized apples. Real autumn-winter cake, with the aroma of spices, sour apple, nutty taste!


Preparation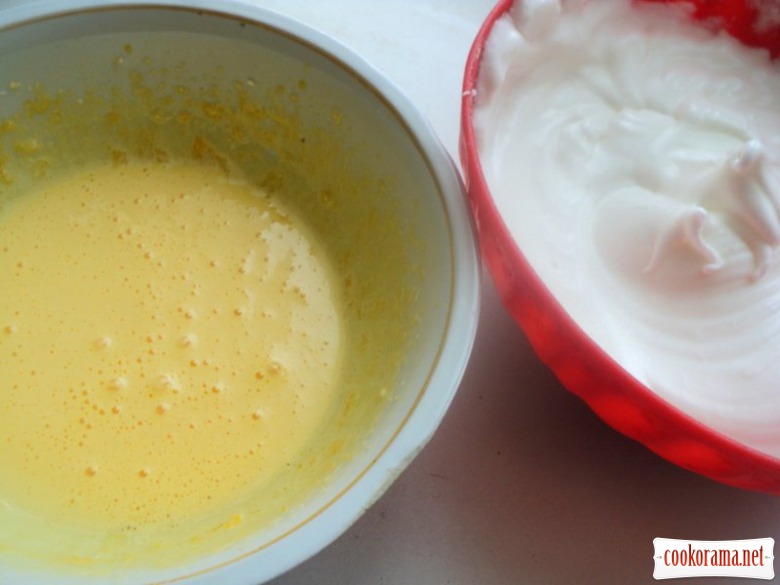 Separate eggs in yolks and whites. Add to yolks half of sugar and mix into white mass. Separately mix whites into hard peaks, add remained sugar at the end.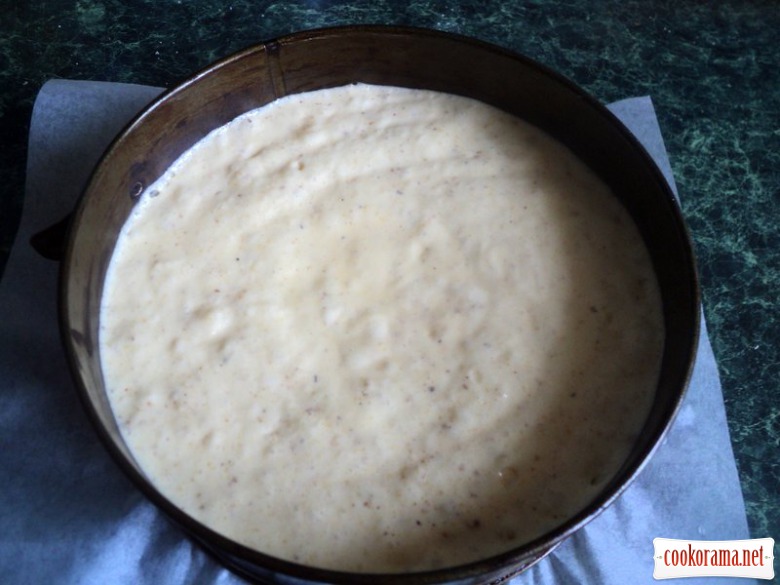 Gently stir mixed yolks and whites, stirring from the bottom up. Add in few portions flour, mixed with starch and ground nuts. At the end pour melted butter, stir carefully. Cover bottom of form 20 сm with baking paper, grease with butter. Pour dough.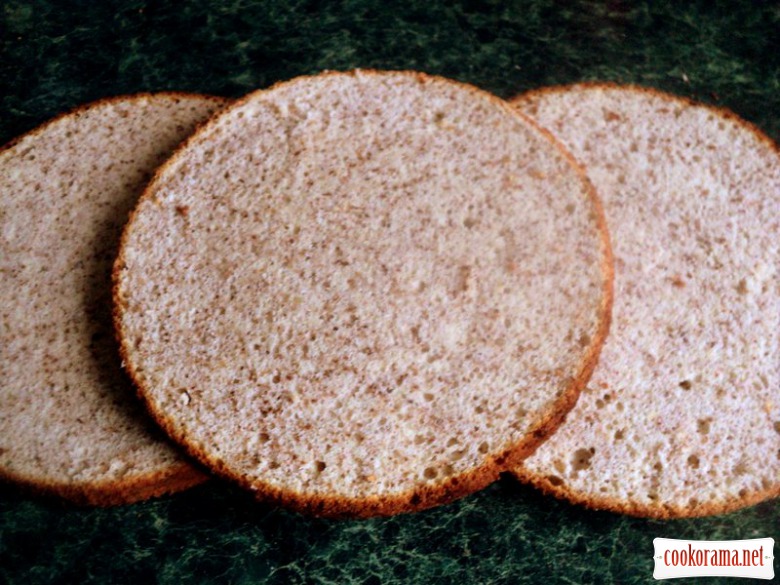 Bake at 200℃ for 30-35 min. Cool ready biscuit. Cut biscuit in 3 layers.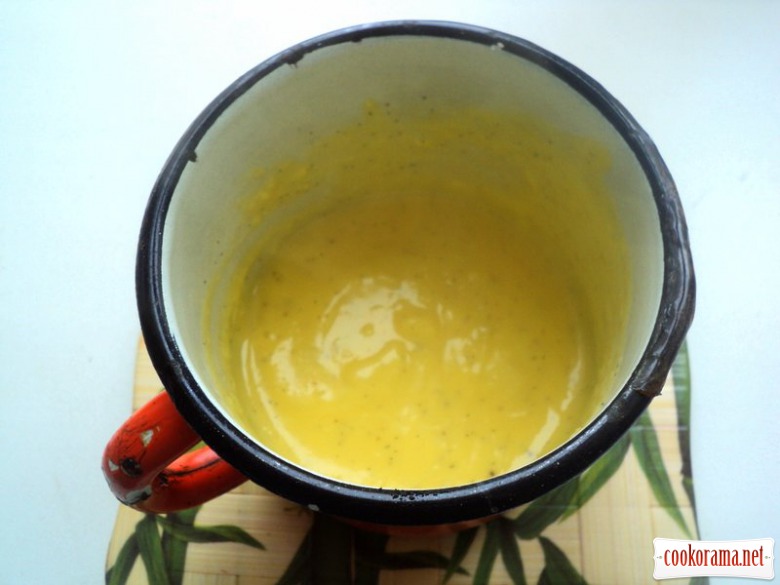 Cream: mix milk, sugar, yolks, add vanilla. Put mixture over low heat and, constantly stirring, boil mass to thickening. Cool to room tamperature.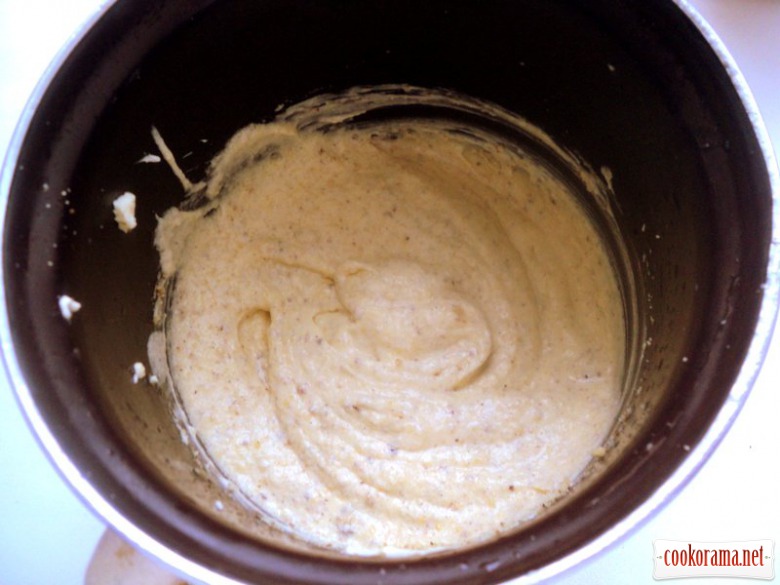 Mix softened butter, add spoons of cooled custard, at the end of mixing add nuts and calvados. In the absence of calvados I added cognac.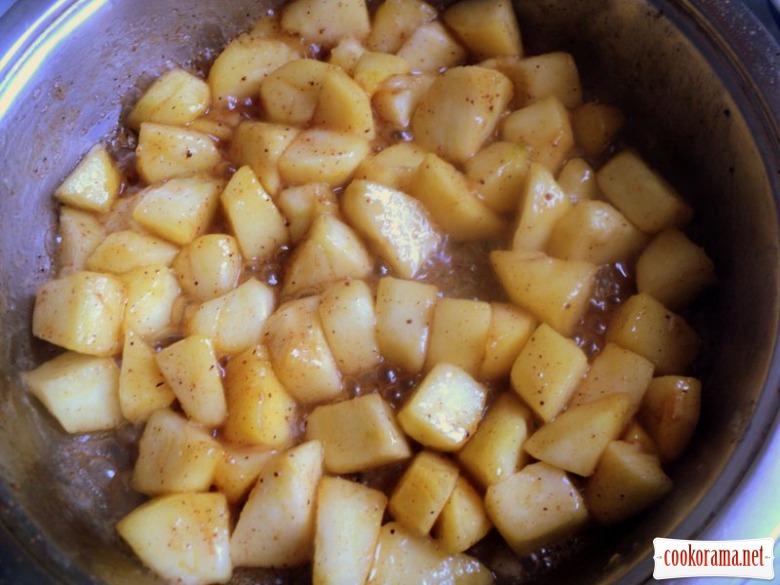 For filling: peel apples and remove seeds, cut in pieces. Fry flour in dry pan into creamy state. Melt butter on pan, add sugar, apples, spices and cook over medium heat till softness of apples and thickening of liquid. Add fried flour, stir and cool.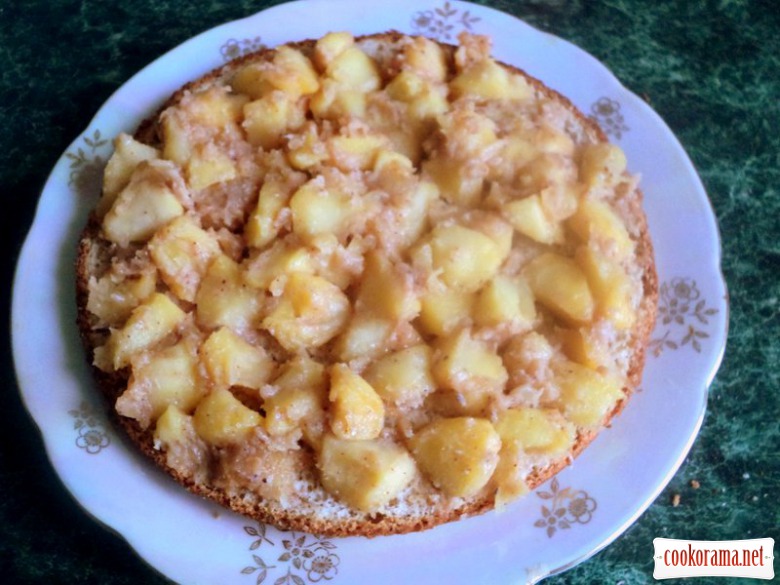 Cake assembly: spread apple filling on flat cake.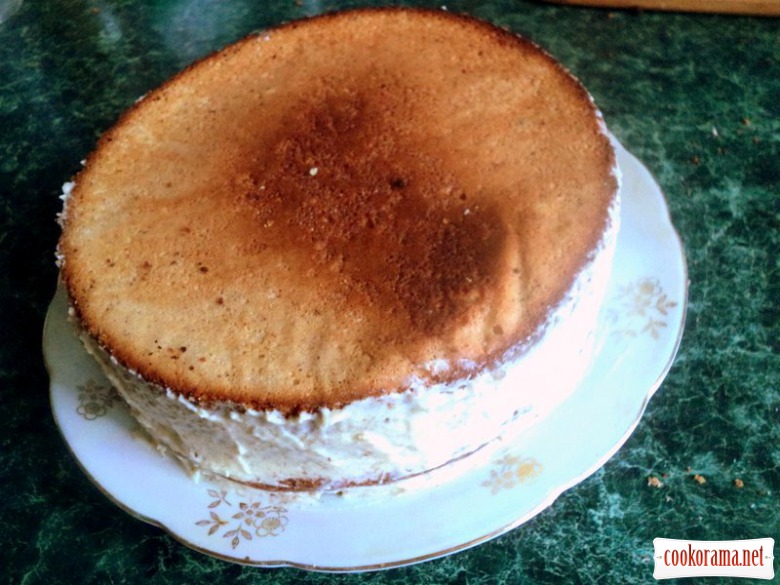 Cover with second flat cake. Smear flat cake with half of cream, cover with flat cake and smear sides of cake with remained cream.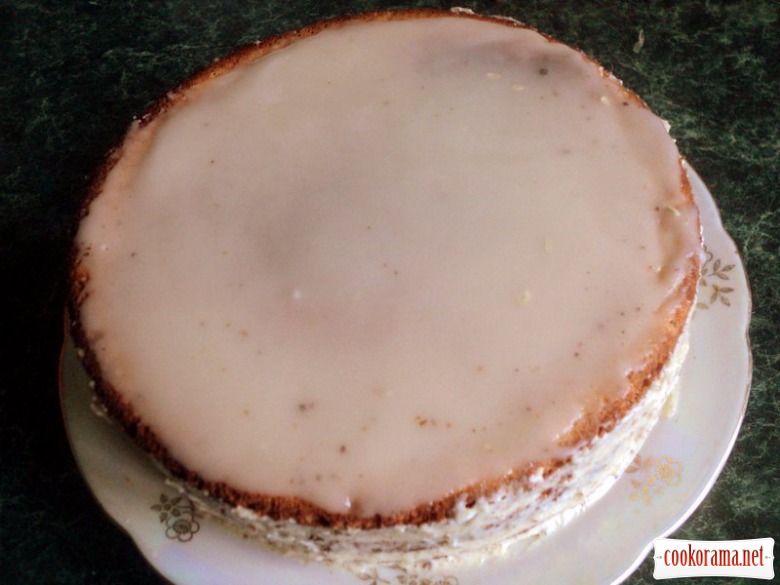 For glaze: mix sugar powder, calvados and lemon juice, whisk it. Heat glaze and top cake with it, try, not to touch glaze with cream.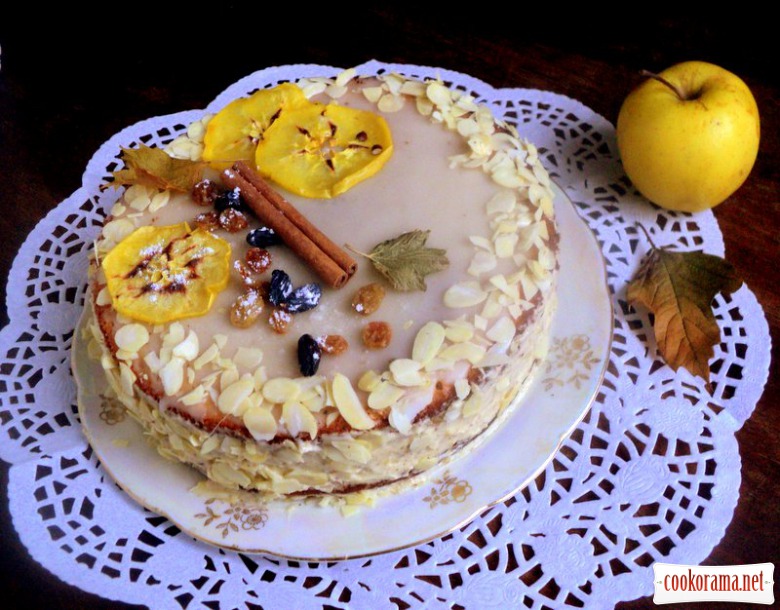 Sprinkle sides and edge of cake with ground nuts (I sprinkled with almond petals).Decorate top with apple chips, raisins and stick of cinnamon. For chips cut apples in thin slices and cook in microwave at maximum power for 1.5 min.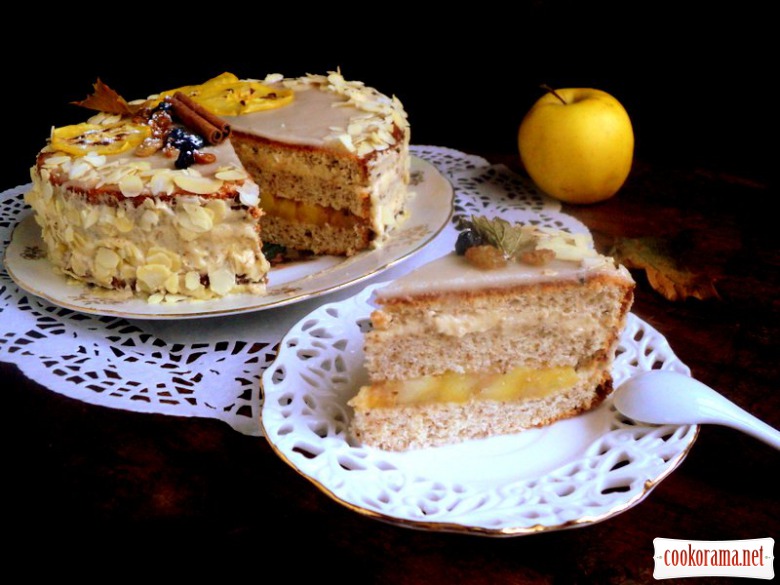 Bon Appetite!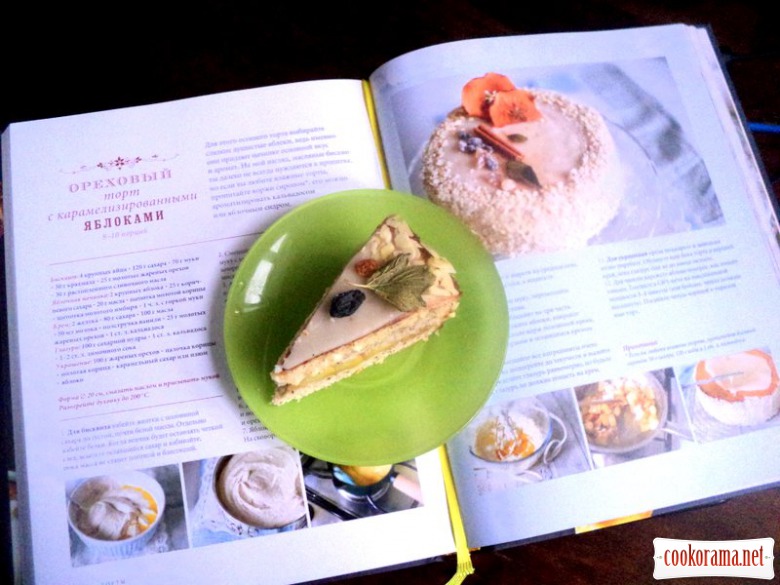 And another piece!