Coconut-banana cake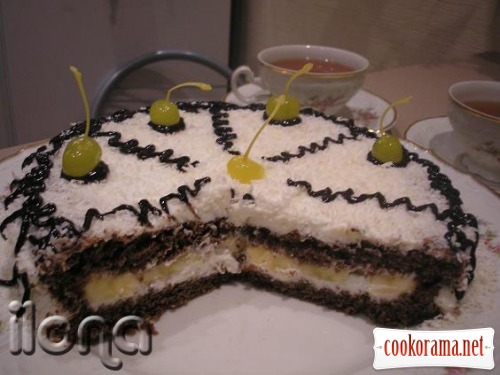 Ingridients
Biscuit
1 glass
1 glass
3 шт.
10 g.
2 spoon
Cream and decorations
400 ml
4-5 spoon
100 g.

thickening agent for sour cream

10 g.
2 шт.
Preparation
Mix sugar, cocoa and baking powder.
Add flour.
Mix eggs.
Add mixed eggs to bulk ingredients. Stir well.
Pour dough in split form. Bake at 180℃ for 20-30 min. Cut flat cake in 2 parts.
Mix sour cream, sugar, thickener and cheese.
Smear lower flat cake with cream. Top with sliced banana.
Cover with second flat cake. Sprinkle cake with coconut, decorate with topping and cherries.