Italian easter cupcake Colomba Pasquale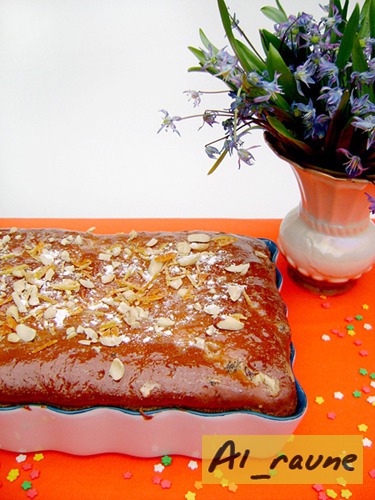 Ingridients
First kneading
500 g.
125 g.
5 шт.
200 g.
120 g.
50 g.
Second kneading
120 g.
40 g.
40 g.
4 шт.
60 g.
60 g.
60 g.
60 g.
125 g.
350 g.
Colomba Pasquale — it`s an Italian easter cupcake. Traditionally, it is baked in the shape of a dove or a cross,so spread wings of a bird is shaped like a cross.
Recently, my friends coooked Colomba Pasquale, a real, Italian,it was amazing! Taste unbelieveble! And I decided to look for a recipe (and possibly not the original, but still

) and cook this delicious cake at home


The cooking process is long, but it was worth it (although there are differences in taste from real Colomba)!!! Cupcake is delicious, rich, flavorful, the best of the ones I ever tried!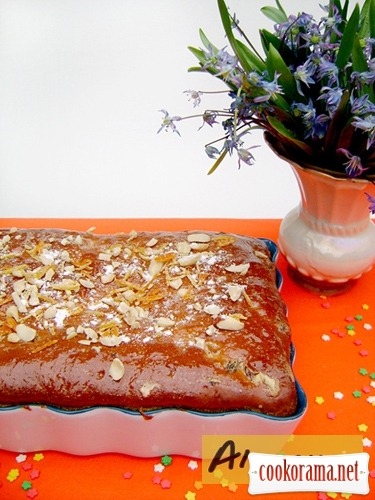 So...

Preparation
The first kneading:
Yeast dissolved in warm water, add sugar. Put it in a warm place and whisk a little the egg yolks. Pour them into yeast and start adding the flour, knead the dough by hand (required only hands!). Give the dough 2 hours.
The second kneading:
In first kneading add ingredients for the second batch: sugar, liquid honey, warm water (2 tablespoons) and 2 egg yolks.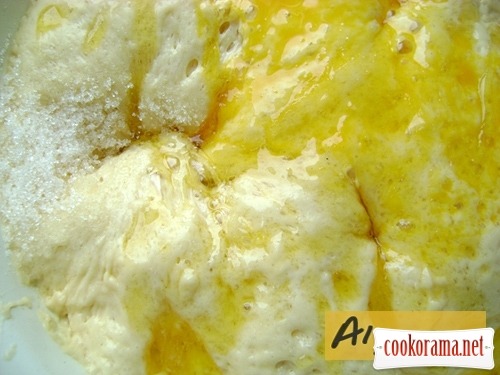 Stir, add flour, knead the dough well and iadd 2 more yolks. Add the vanilla, salt, melted butter. At the end of the kneading, add candied fruits, raisins, dried apricots, dried peel.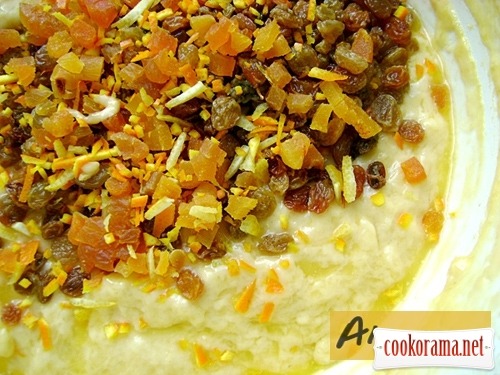 Cover the bowl with the dough and leave it for an hour at room temperature. Then spread the dough into a baking dish 1/3 the height of the form. Give the dough time to stay in the form (4 to 6 hours).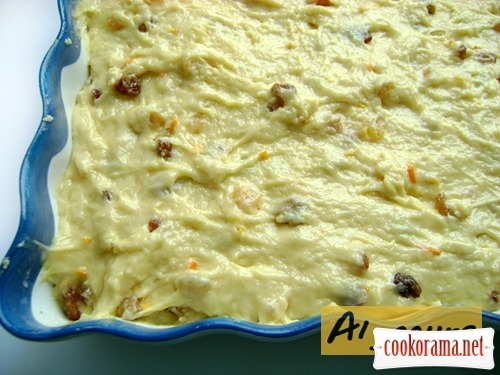 Bake in a preheated 190 degree oven for an hour. Readiness check with a toothpick.
In the original «Colomba» before baking is coated almond glaze, sprinkled with sugar for sprinkling and then baked. I in for 10 minutes before readiness greased cupcakes, add powdered sugar and sprinkle with peanuts.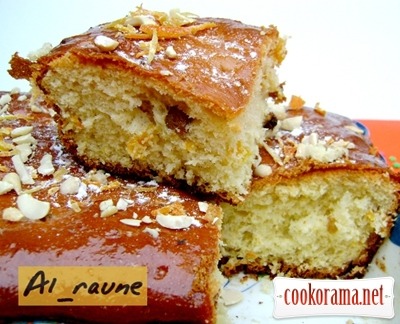 P.S. of this amount I got two big cakes!
Bon Appetite!