Quick pumpkin scone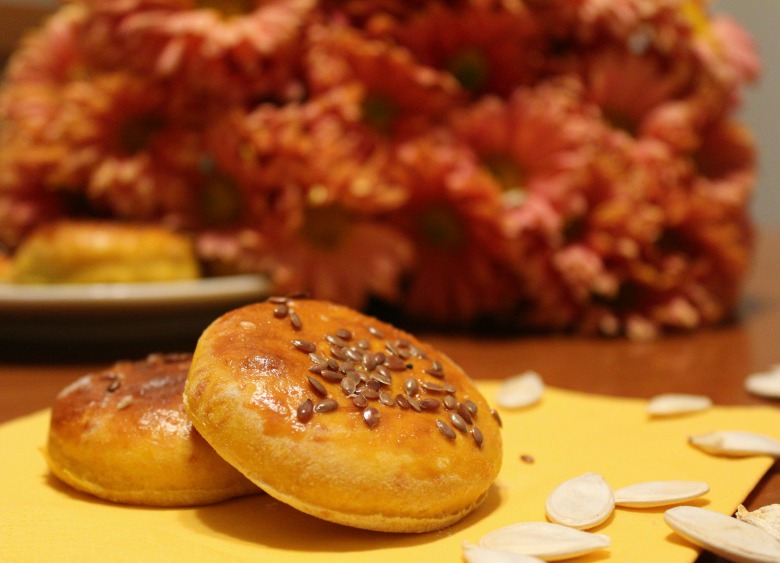 Ingridients
350 g.
100 g.
400 g.
125 ml
1 tsp.
Hello, dear friends!

Today I offer to cook fast pumpkin buns\ scones, which we do quickly and eat quickly too. The very speed, in one word. This recipe I call one of those «guests on the threshold» or «How to surprise husband for dinner while the baby sleeps».
In short, quickly write down the recipe and cook without hesitation.

Preparation
1. Stir pumpkin puree, grated cheese, yoghurt\kefir, spices.
2. Add flour. Note – dough should be elastic, but not sticky to hands.
Actually, the final amount of flour or yogurt depends on the pumpkin puree. If it is liquid, it needs more flour if thick, it may be enough this amount or need to pour yogurt.
3. Spread dough on board and roll at about 2-3 cm thick.
4. Make forms. I do them with usual glass. You can make other forms. Especially some flowers or butterflies for kids. Dough keeps form well. Be aware that if buns are of same height, so as not turned out that one bake well and the other — not.
5. Spread on covered with parchment baking sheet.
6. Grease with mixed yolk a bit. Sprinkle pumpkin seeds, flax seeds, dried basil or rosemary — with anything you want.
7. Bake for 20-30 min at 190 C. Watch. The final time depends on height and their size of buns.
These rolls also goes well to children. However, if I plan to give them to my son, I remove cheese form recipe and add or sprinkle that he loves. I advise you to experiment with flour and add wheat instead of the traditional, such as whole wheat or rye.
Bon Appetite!
497

19 November 2014, 16:51