Fancy buns according to GOST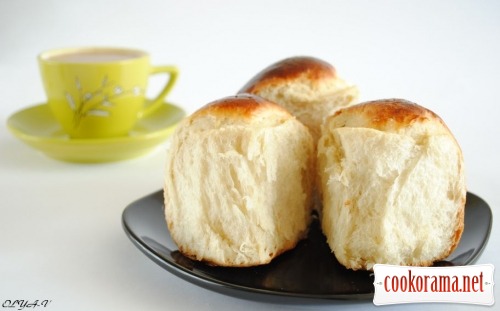 Ingridients
Batter
90 ml
112 ml
15 g.
232 g.
Dough
95 ml
15 g.
195 g.
0,5 tsp.
3,5 g.
2 шт.

margarine (melt and cool)

112 g.
518 g.


The recipe is by Alice, Culinary Forum of Donetsk.

Preparation
Prepare batter. Dissolve yeast in mixture of warm milk and water, add flour, dough should be like, as for pancakes, mix well, cover it and put in a warm place for 2.5-3 hour (I put in the oven heated at 30 degrees). Batter is ready, if it comes down after well rising.
Prepare dough. Dissolve in warm water second portion of yeast, sugar, salt and vanillin, add raised batter and slightly mixed eggs (use room temperature eggs). Mix it, adding portions of sifted flour knead dough, at the end of kneading, when dough is still sticky add margarine, stir it, then adding more flour knead dough. Knead well on a sprinkle dwith flour table, dough should become elastic. Shift it in oiled bowl, cover and put in warm place for 2-2.5 hours.
Next shift dough on table, knead it, form 12-13 round buns, spread not close to each other on greased with butter baking sheet or just form, cover with film and let it stay for 1-1.5 hour.
Heat the oven at 180-200℃, grease buns with mixed egg. Bake till readiness, if the top browns a lot, cover with foil or parchment.
Enjoy your tea! Buns are very tasty, in fact, similar to those which were earlier.