Sushi Time: Gunkan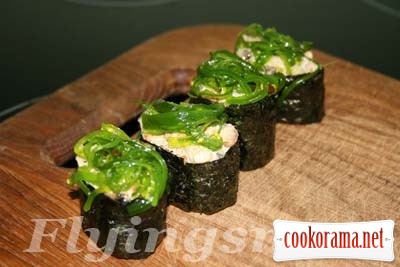 Ingridients
150 g.
200 g.
2 spoon
1 spoon
1 tsp.
0,5 tsp.
1 spoon
0,5 tsp.
Gunkan means «ship»

Preparation
Wash rice, till water becomes transparent. Pour water and boil for 15 min under the lid. Then turn off the heat and let it stay covered for 10 min.
Dissolve in sushi vinegar sugar and salt. Pour rice with this, mix (better with a wooden spoon), spread and let it stay for another 15 min.
For stuffing dice eel and cucumber. Mix soy sauce, mayonnaise and lemon juice and add to eel and cucumber.
Make a small ball from rice (for this deep hands in water with lemon). Wrap it with a strip of nori and fill the stuffing. Decorate the top.
Use traditional soy sauce, wasabi and ginger.
Banzai!
701

26 September 2010, 00:16