Village meatballs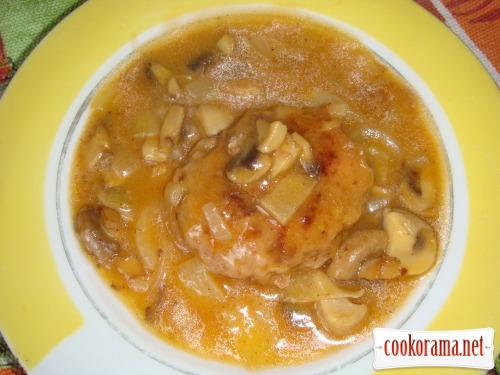 Ingridients
400-500 g.
300 g.
3 шт.
3 spoon
4 spoon
5-6 шт.
2 шт.
1-2 шт.

Village meatballs are traditional Ukrainian cuisine. Mushroom sauce brings them incredible taste. Perfect side dish for village potatoes is potato.


Preparation
1. Add water in mince, chopped onion, salt, pepper and mix well. Form balls with wet hands and roll them in flour.
2. Fry balls from both sides in butter and oil till golden brown for a few minutes.
3. Slice onion and fry it till golden color. Spread onion at the bottom of the saucepan or stewing form.
4. Boil mushrooms, cool them, and pour mushroom decoction (1 liter) in container, put aside.
5. Slice mushrooms and fry in pan.
6. Spread in one row meatballs on onion.
7. Spread mushrooms on meatballs.
8. Now prepare sauce:sauté flour till golden color, on the other oan sauté tomato paste, add mushroom decoction to it, flour (constantly stirring), pepper, bay leaf.
9. Pour sauce in the saucepan on the top of mushrooms and put to stew in the oven for 15 min.