Stuffed peppers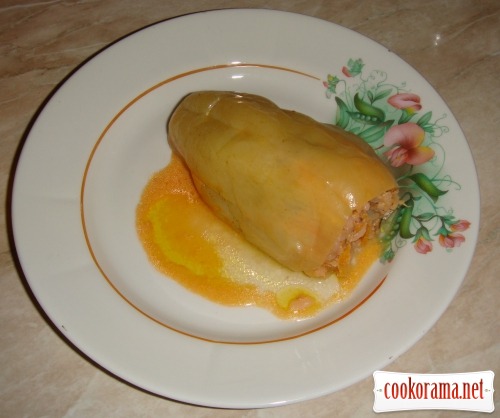 Ingridients
8 шт.
300 g.
2 шт.
2 шт.
0,5 glass

tomato sauce (краснодарский)

3-4 spoon
400 g.
3-4 шт.
2 шт.
Preparation
1. Wash peppers, remove «cap» and core. Then boil them in water, for 5-10 min after boiling of water till soft. Cool it.
2. Grate carrot, chop onion and sauté in pan with oil till readiness.
3. Boil rice in salted water till semi readiness, drain water, wash and mix with mince, carrot, onion and chopped greens, add salt and pepper. Stuff peppers.
4. Now prepare sauce: sauté in pan tomato paste, sour cream (constantly stirring), add pepper, bay leaf.
5. Pour sauce in the saucepan over the peppers and stew till readiness for about 50 min -1 hour.