Spanish style Nute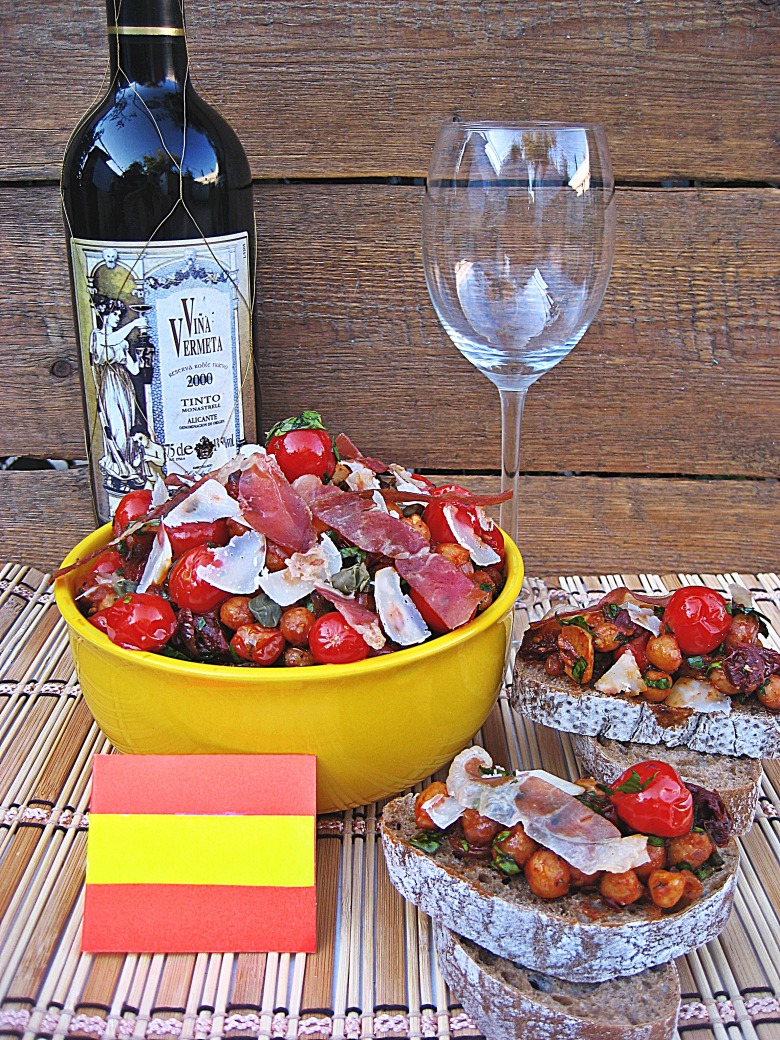 Ingridients
200 g.
200 g.
7 шт.
1 шт.
2 шт.
40 g.
50 g.
40 g.
1 bunch

cheese (I've got parmesan)

40 g.
40 g.
1 шт.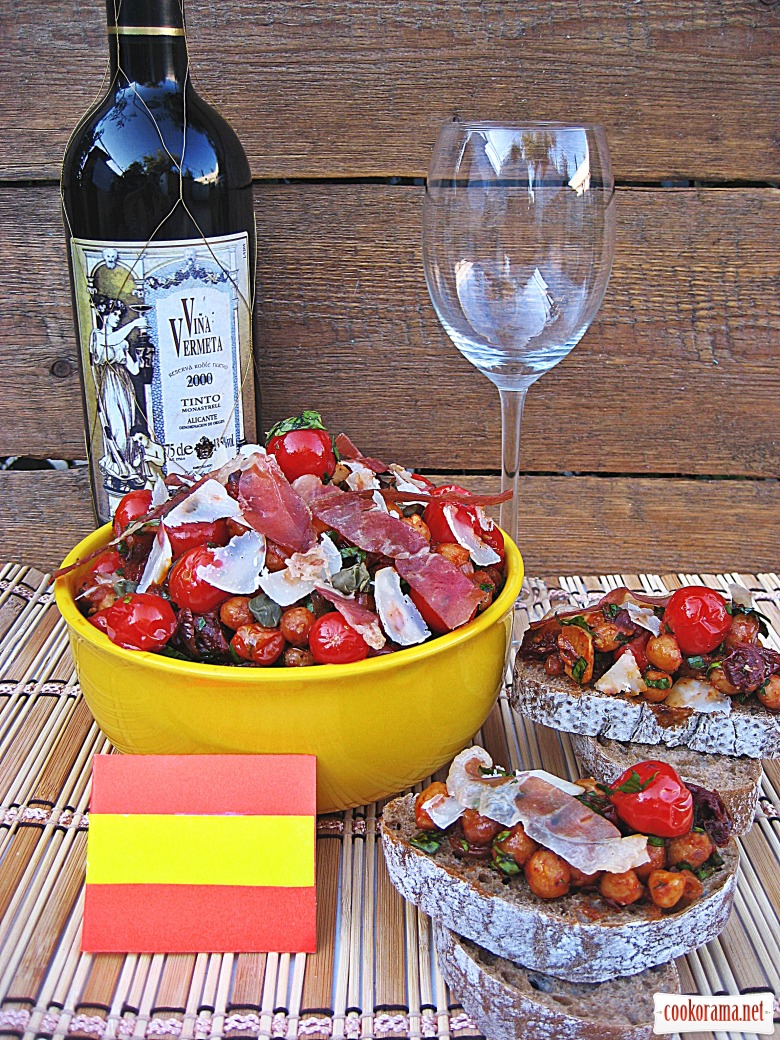 My husband says that I`m crazy

we are on vocation now. He is looking for a place to eat, and I`m looking for Wi-fi

To share with you one very tasty dish, which we had for dinner

This recipe, I found at the girl who keeps a blog about the life and cuisine of Spain unfortunately I do not remember the name of the site, but the recipe is copied.
This recipe does not have long history… but it's very tasty, healthy, satisfying meal. Spaniards love legumes (such as Nute) very much. And they`re right, because it is useful: Nute is rich in proteins and carbohydrates, like all legumes. Regular consumption of nute lowers cholesterol in the body.
It contains so useful for immunity and blood potassium and magnesium. To strengthen bone tissue help presented in Nute calcium and phosphorus.
Nute is familiar human civilization from the seventh millennium BC. At that time it was grown in the Middle East. In the Bronze Age Nute appeared in Greece and Rome. In Antiquity Nute considered as an attribute of Venus (Aphrodite). It was served fried in olive oil and eaten with cheese. «Iliada «by Homer serves as the first written mention of Nute. Starting from the XVII century Nute becomes known almost all over the world. It was used as coffee substitute in Europe. In Russian Nute got from the Bulgarians and peoples of the Transcaucasus.
Since ancient times, chickpeas grown in India and Pakistan. Today, its cultivation is mainly concentrated in Turkey, North Africa, North America, Mexico and even in Australia.
This dish is very rich in flavor, healthy and extensive. I think it is a winter dish ( maybe because, I often cook chickpeas when it's cold) such as, chickpeas satisfied and warms a lot… Help yourself

Preparation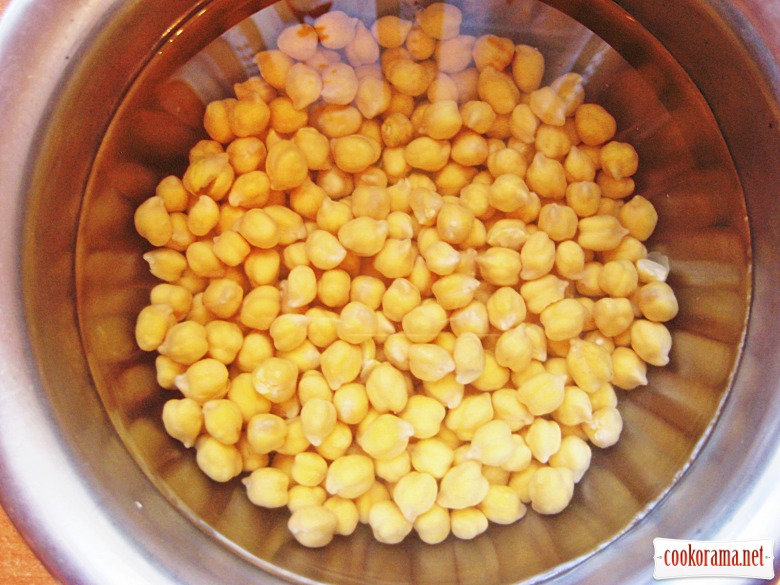 Cook Nute as usual. Soak for 6 hours (if it`s possible change water) or for a night. Boil for 30-40 min.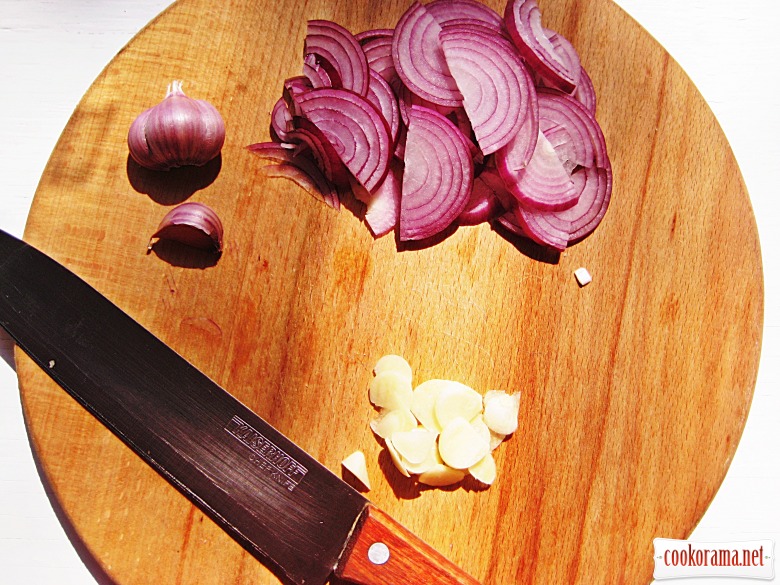 Chop onion, garlic. Fry in olive oil. Add tomato paste and some water. Stew it.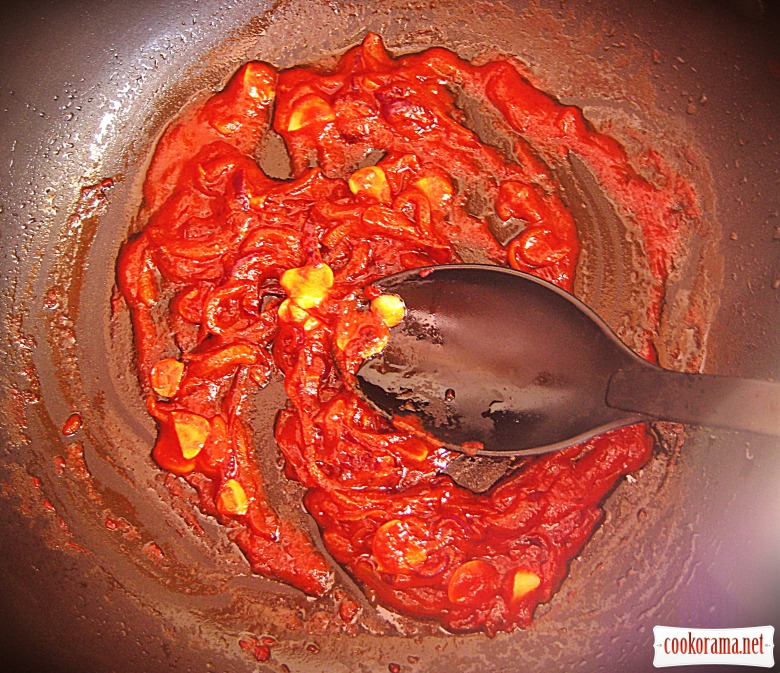 Add chopped, sun-dried cherry tomatoes. Add salt, sugar, pepper.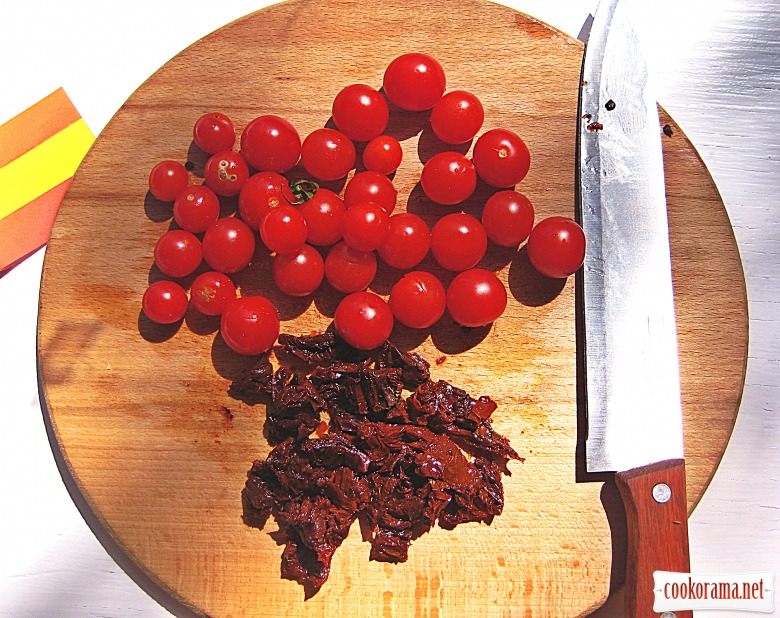 Add Nute. Cover with lid, stew for 7-10 min. Cool it down. Add chopped parsley. Mix it.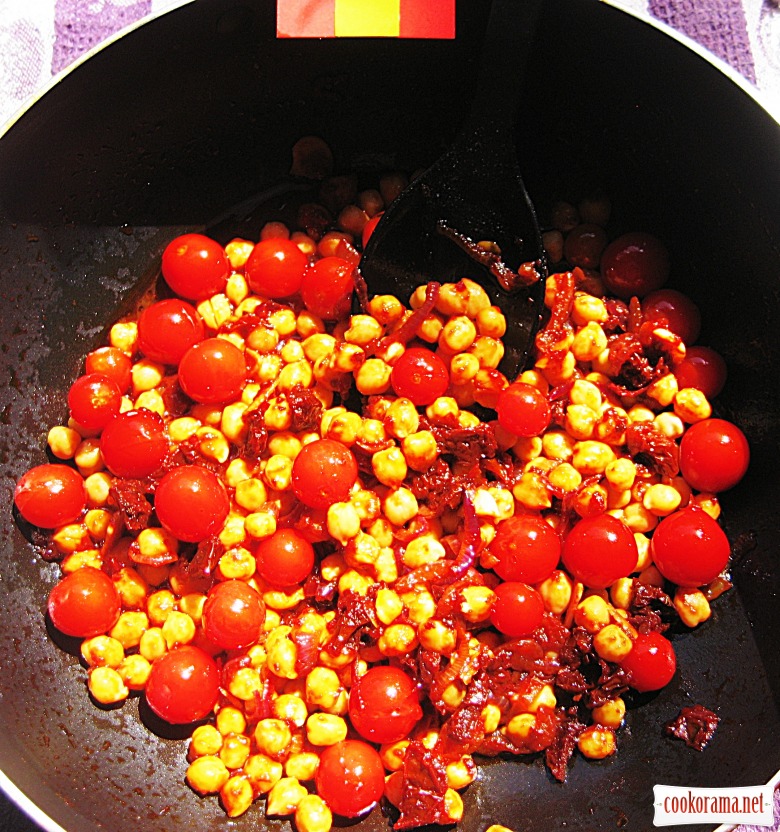 Squeeze capers well and add them. (if you do not like, acidify — with wine vinegar)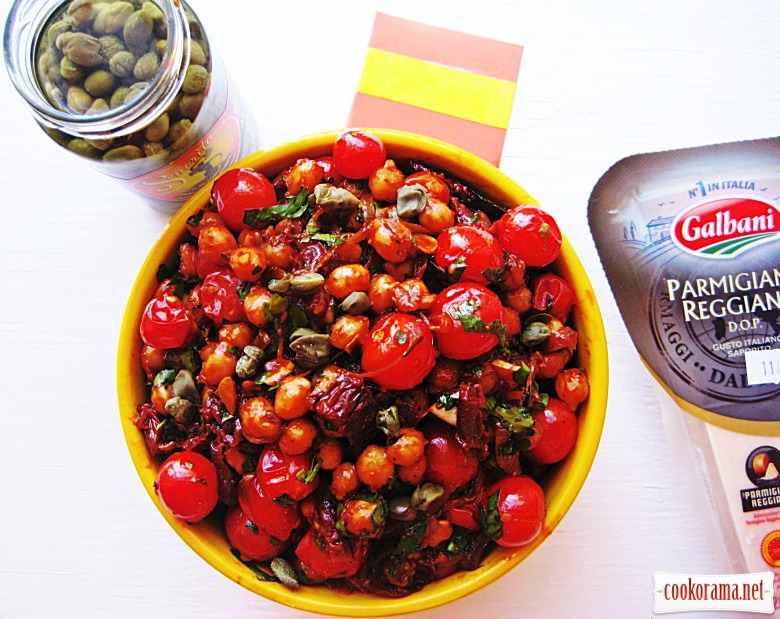 Grate parmesan. Carefully mix.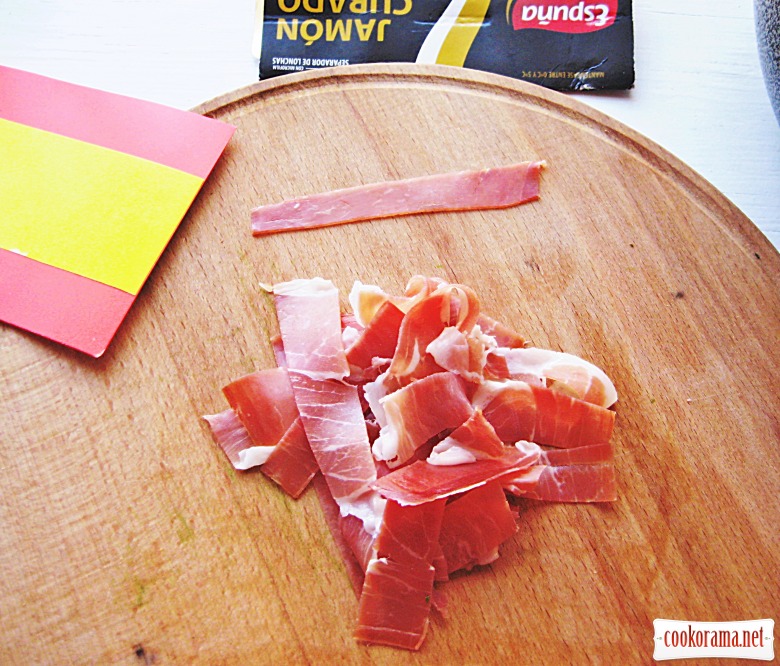 Cut along jamon in strips. Dry on pan. Decorate the top.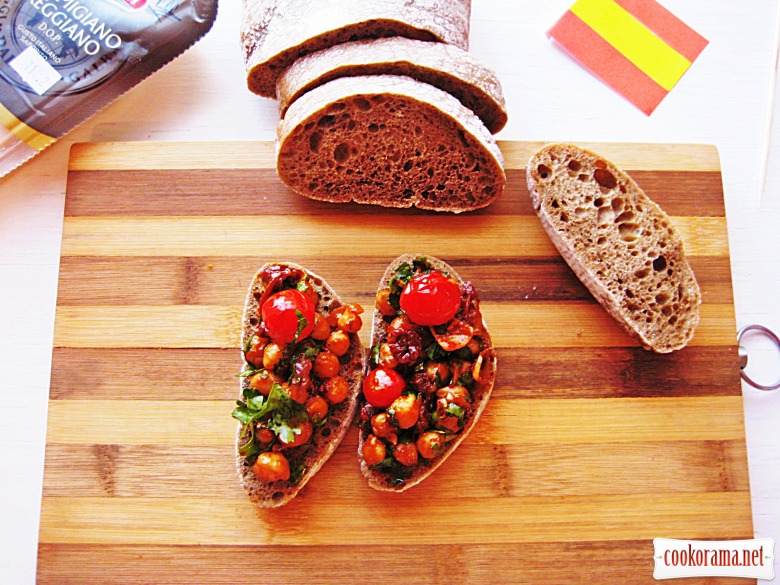 Ciabatta (delicious with rye), dry in a toaster or oven. Spread Nute.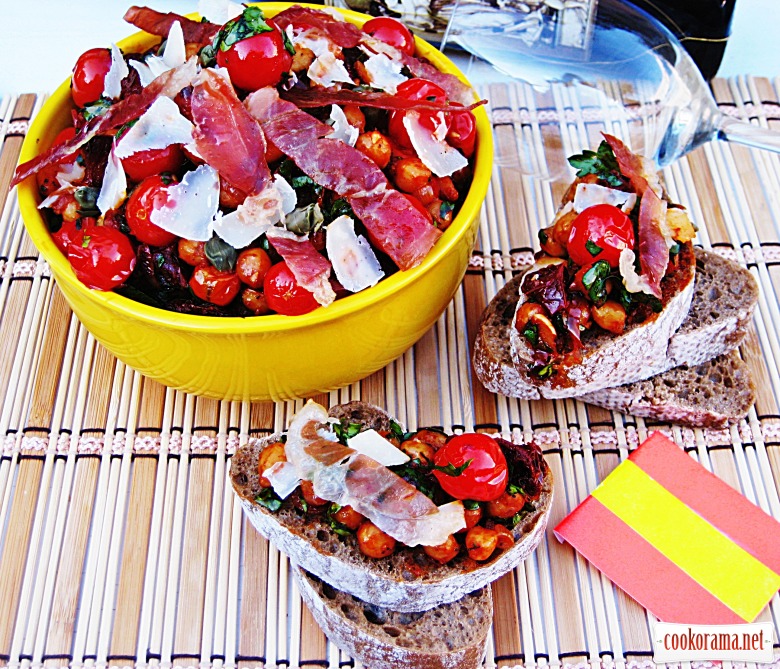 Open a bottle of wine and enjoy dinner)))