Chicken Kiev (almost classic way of cooking)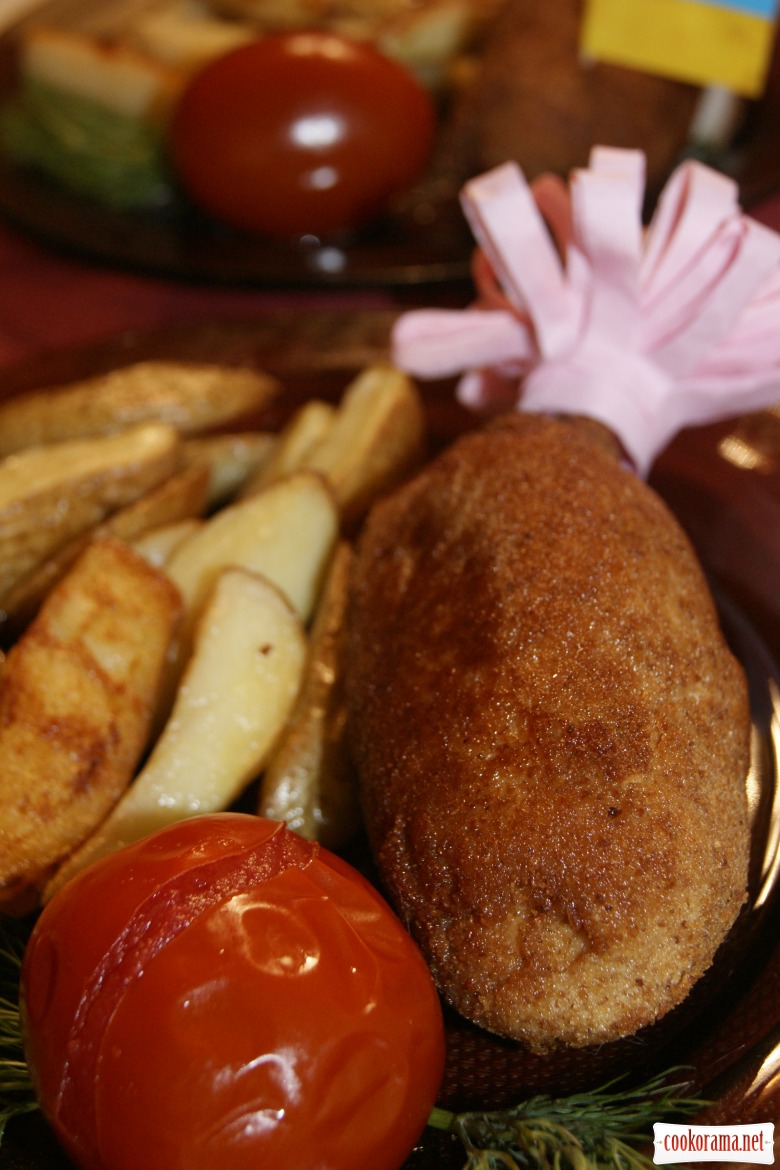 Ingridients
Ingridients

chicken fillet (on the bone)

100 g.
30 g.
Breading
1 шт.
Garnish
700 g.
5 spoon
So, the third, the last in my menu — three meals from one chicken, but the most delicious and worthy № 3 " Chicken Kiev "! I'll note in advance that the traditional way of presenting cutlet on crouton — fried croutons of white bread without crust, accompanied by classical complex garnish: carrot in Moreshal milk sauce, boiled canned green peas, boiled rice and fried potatoes «pai» (sliced in thin strips and rolled in potato starch). A little of history:

How appeared chicken Kiev.

In the early twentieth century in New York immigrants from Kyiv covered cutlet with glory. Hence the name of nostalgic Latin Chicken Kiev, or sometimes a Tsiplenok po-kievski. Birthplace of Chicken Kiev history calls hotel-restaurant «Continental» on Nicholas Street (now Gorodetsky). There was in hotel Hetman Skoropadsky headquarters and to its officers were served a dish called «chicken de volaille in Kiev style». Popular French Recipes: Chicken cutlets on the bone de volaille (cotelettes de volaille) and stuffed breast cordon-bleu (Poulet Cordon Bleu). However, the taste of this culinary novelty and hetman and his entourage was already familiar to merchant Club of St. Petersburg. There approximately 1910-1915 years invented new Michael cutlet, which was given the name in honor of the Mikhailovsky Palace, located near the club. Famous culinary theorist William V. Pokhlebkin wrote: " These cutlets were typically «invented» dish specially indulge the whims of taste rich and spoiled customers by combination of natural, whole, raw, not ground European and Eastern technology of it`s processing. It was a hybrid international cuisine, the dish not known neither the French nor the Germans nor the Russians nor oriental cooks ".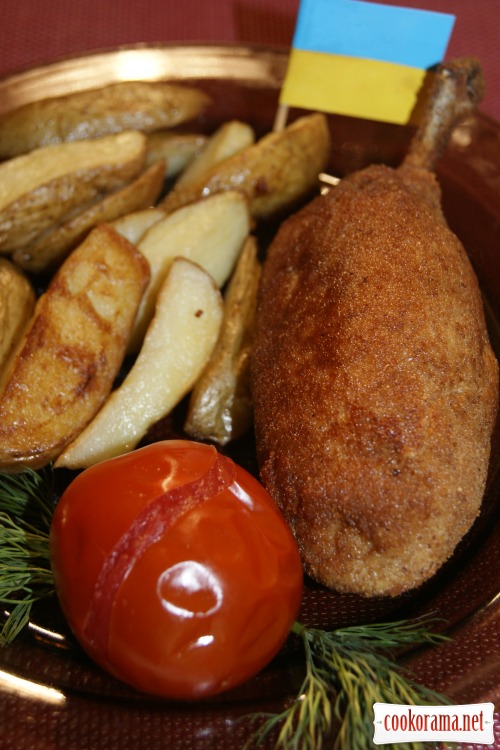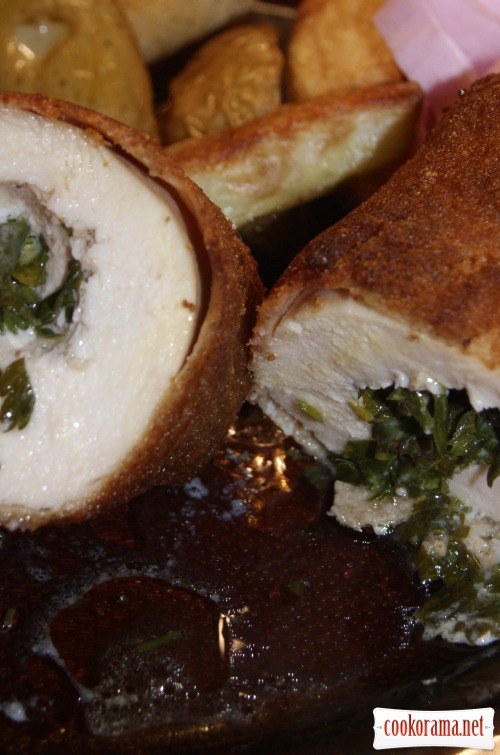 Preparation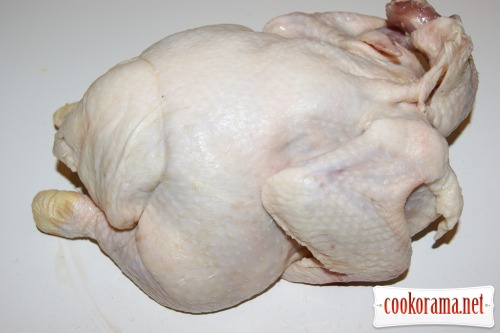 Cut off chicken fillet with wings, which are cut to " elbow «joint.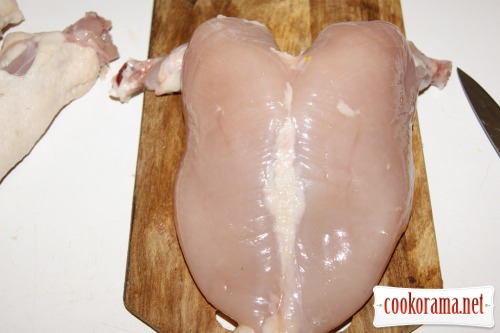 Divide fillet in 2 halfs, and divide each half in large and small fillet, cut the tendons on the large fillet in several places, and delete from small one. Clean up bone from meat.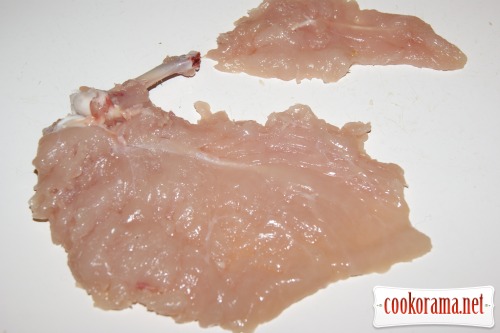 Place fillet in food wrap and lightly roll using rolling pin.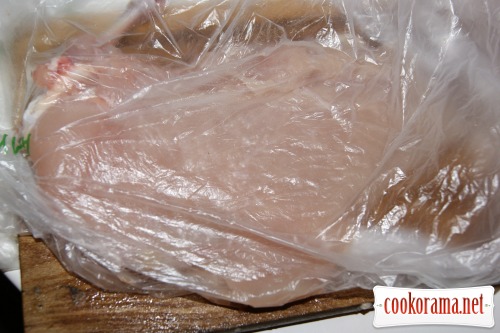 Salt and pepper ready fillet, stepping a bit from bone, put butter (mixed with parsley), cover it with small fillet.
Starting from this same edge twist cutlet tucking sides, when frying not to spil oil.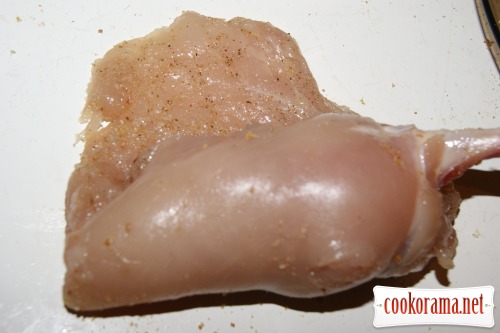 Ready cutlet should ideally has form of spruce cone.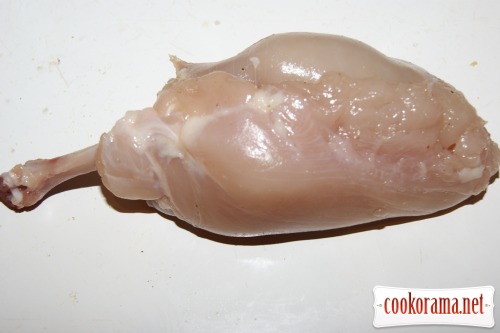 Roll cutlet in flour.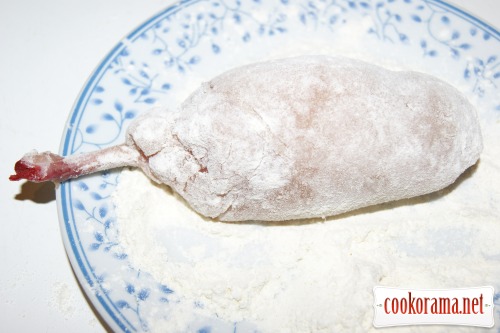 Dip in egg.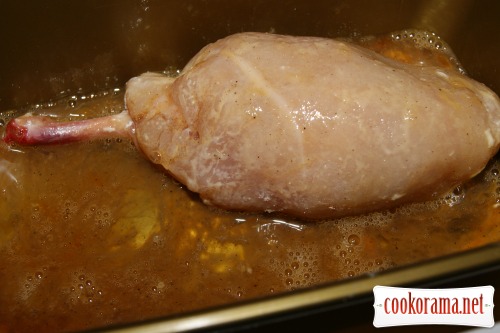 Roll in breadcrumbs, pressing with hands, put in the fridge at least for 1 h, to cool cutlet before second rolling in crumbs.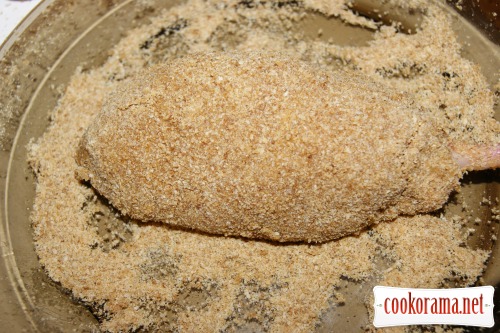 Dip chilled cutlet in egg again.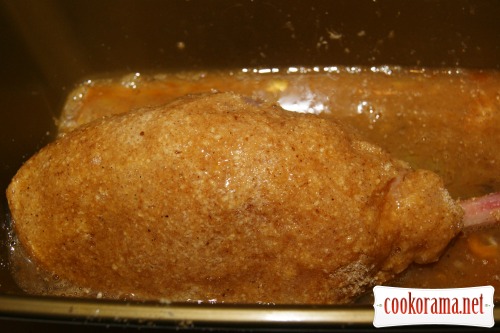 And roll in breadcrumbs second time, well and densely pressing them to surface of cutlet.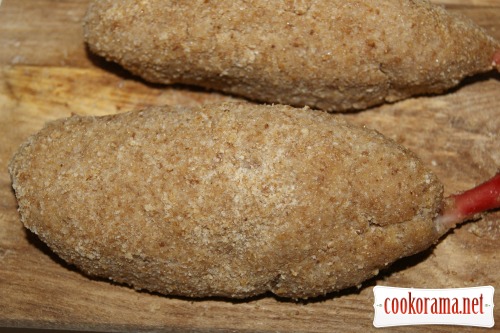 Fry in big amount of well heated oil till brown crust, then put for 5-7 min in heated to 190-200 ℃ oven and serve it at once!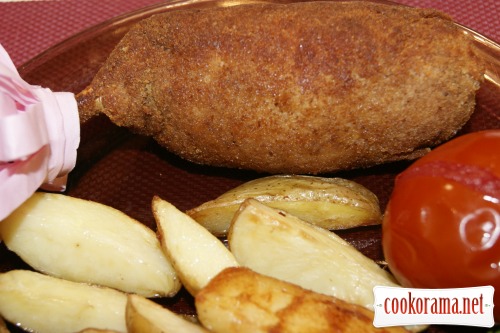 Garnish:
Cut potato in 4 parts and stirring with oil bake in well heated to 200 ℃ oven.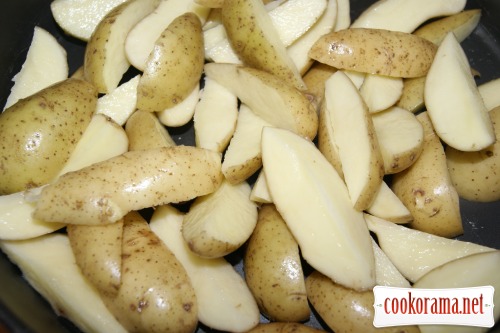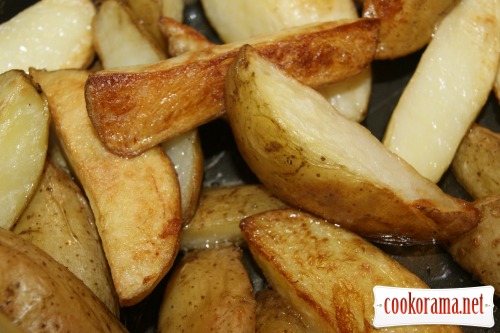 Salt and pepper finished potato. Serve with different pickles.
Bon Appetite!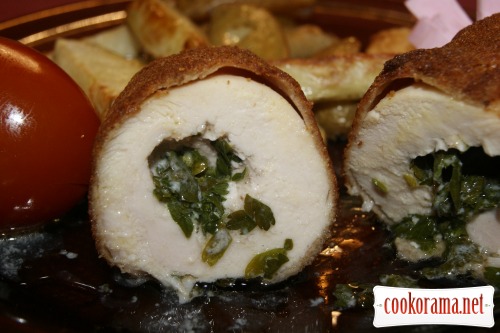 Top of recipe "Chicken Kiev (almost classic way of cooking)"