"Tortilla" (Spanish omelette with potatoes, chorizo and olives)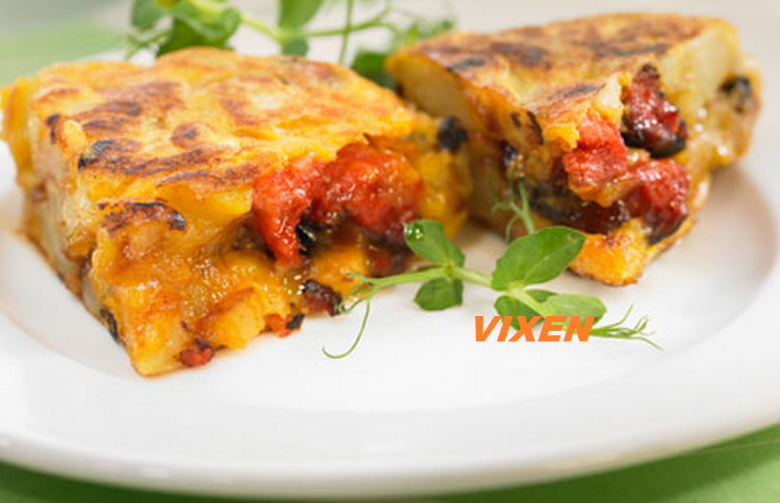 Ingridients
6 шт.
1 шт.
50 g.
500 g.
200 ml
1 шт.
1 tsp.
Another recipe from my collection, Spanish omelette (general recipe has many variations, as well as the Ukrainian borscht

). Nourishing, easy recipe, where in addition you can use the «remnants» of the refrigerator


I took chorizo sausage, it gives a fairly spicy taste, but you can take any sausage (or chicken, or even shrimp)

Also, you can take any vegetables and greens.
In short, experiment and find your own unique recipe.

Preparation
Peel, dice potato and stew in some oil, covered with lid, for about 8-10 min, to make it soft, but keep the «shape». Add sliced sausage and red pepper (in strips) and stew for another 3-4 min (covered with lid). At the end add chopped olives.
Cover baking form with parchment and evenly spread potato mixture.
Mix eggs with milk, add salt, smoked paprika, pepper and greens and pour in form.
Bake in heated oven for 15-20 min, till brown crisp (I made at 180℃). Remove from oven (but not from form!!!) and leave for 5-7 min.
Before serving, remove from form, remove parchment and cut in portion pieces.
Serve with lettuce.
Bon Appetite!!!
Top of recipe ""Tortilla" (Spanish omelette with potatoes, chorizo and olives)"
1111

24 March 2015, 17:32