Salad "Wish"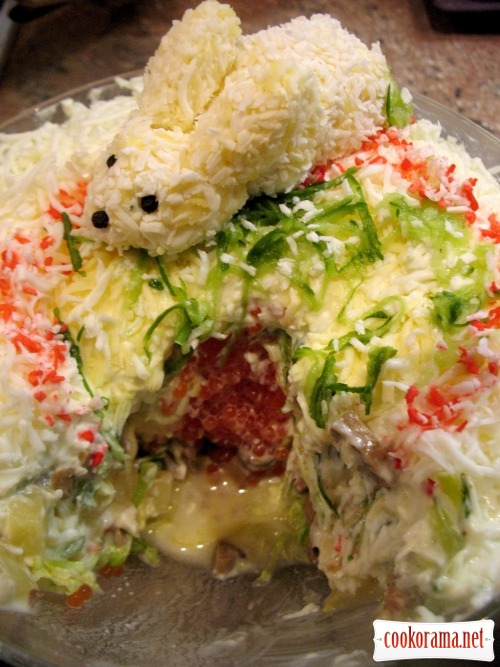 Ingridients
4 шт.
2 шт.
250 g.
300 g.
300 g.
50 g.
25 g.

pickled champignon mushrooms

300 g.
6 шт.
My dear friends!!!
I came up with the salad for the New Year Flashmob!
Salad is called «WISH».
What is the secret for your guests in this salad?
In the center of the salad we hide caviar and one of the guests who finds it, is entitled to make a wish!!!)

Preparation
Salad composed of the most common ingredients in my poll. I try to get them perfect balance with each other!
Cook by layers, and in the middle of salad insert tube fused from the album leaf, then we will fill this space with caviar — we will have it only in the center of salad!
1 layer – strips of lettuce leaves
2 layer – diced mushrooms
3 layer – sliced leek
4 layer — mayonnaise+sour cream+garlic
5 layer — shrimps
6 layer – diced pineapple
7 layer – grated cheese
8 layer — mayonnaise+sour cream+garlic
9 layer – grated yolk
10 layer – diced red fish
11 layer – grated cucumber
12 layer — mayonnaise+sour cream+garlic
13 layer – grated white
Remove our tube and fill the middle with red caviar.
Decorate salad by hare!!!
Grate egg white, cheese, garlic, mayonnaise – stir all this and mold hare, rolling figures in coconut crumbs!!!
That`s all, salad is ready. I cooked it for an hour!!!)
Hope, you like it!!)