Salad "Idyll"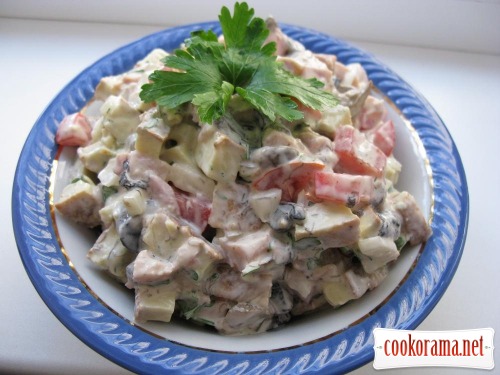 Ingridients
Ingridients
2-3 шт.
3 шт.
1 glass
1 шт.
1 spoon
0,5-1 spoon
Omelette:
4 шт.
100 ml
Seasoning
Preparation
Remove skin from legs, we don`t need it. Dice the chicken.
Beat eggs for omelet with milk, add the rest of the ingredients, mix well and cook an omelette under the lid.
Let it cool.
Dice it.
Cut marinated mushrooms, if you need, chop them.
I didn`t have marinated, and salad was improvised, during dinner it was called " Idyll "

To marinate mushrooms, onions cut into strips, add salt, freshly ground pepper, oil and vinegar, mix well.
Add our mushrooms and stir, let stand for 30 min.
Also dice tomatoes.
Combine all ingredients for salad, dress with mayonnaise, adds spices, herbs and stir.
Eat it.
Bon Appetite

Delicious salad, everyone liked. The only thing I lacked such, it is of a slightly sour taste, that's why I say about marinated mushrooms. Also, I think pepper would not be superfluous.