Pizza with mushrooms and chicken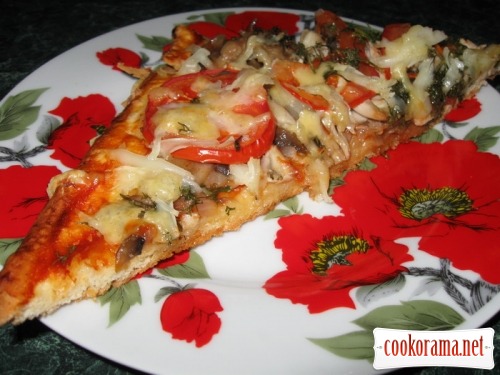 Ingridients
Dough
2 шт.
4 glass
3 spoon
1 spoon
1 tsp.
1 glass
12 g.
Filling
400 g.
2 шт.
2 шт.
Preparation
Dough:
Mix eggs. Mix flour with yeast, add salt, sugar, oil, pour warm water and eggs.
Knead dough.
And put aside for an hour, meanwhile prepare stuffing.
Clean mushrooms, cut and spread in pan, fry over low heat, when they are almost ready add chopped onion and fry to readiness. Slice tomatoes.
Dice chicken fillet. Also chop dill and tomatoes.
Dough is enough for two round pizzas or for big one. Grease baking sheet with margarine and roll on it thin dough. Smear with ketchup.
Pour mushrooms with onion.
Then chicken.
Next sliced tomatoes.
Greens and grated cheese.
Bake at 180℃ for 30-35 min.
Bon Appetite to all!