Unusual bulk apple pie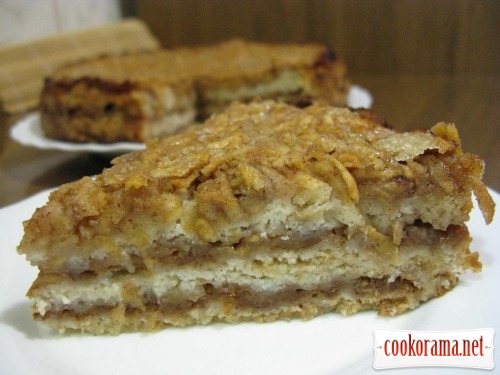 Ingridients
1-1,5 kg
250 ml
250 ml
250 ml
1 tsp.
1 tsp.
100 g.
Preparation
Combine all dry ingredients, add more of half from sugar, stir it.
Peel apples and remove cord, grate them.
Add cinnamon, stir it.
Divide these two masses in 3 parts.
You can grease form with butter, but not necessary, I didn`t do that.
Now spread layers of mixtures.
Dry, wet, dry, wet, dry, wet.
Melt butter and pour evenly on top of our pie.
Sprinkle rest of sugar.
Put form in bigger one or wrap with foil, may slightly leak.
Bake in the oven for 40 — 50 min at 180℃. I baked for 60 min, it`s too much.
I got 23 сm form.
Bon Appetite to all

Pie bribed me with its uniqueness, curiosity won.
We liked the pie very much, interesting taste. However was scared, afraid that dry mixture will stay dry.
Take sour – sweet and juicy apples. In this recipe surplus apples will not be excess, more is tastier and safer.