Royal cheesecake with marmalade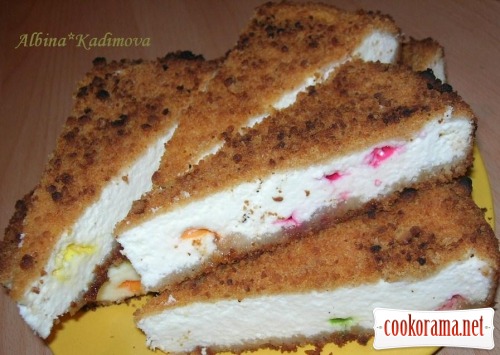 Ingridients
Dough
300 g.
100 g.
5 spoon
0,5 tsp.
0,5 tsp.
1 tsp.
Filling
500 g.
3 шт.
0,5 glass
10 g.
Preparation
Mix margarine or butter with sugar, add vanilla, baking powder, cinnamon, grind nutmeg, flour. You should get bulk mass. Spread 2/3 of mass in form, make small sides. Put form in the fridge.
Combine curd with sugar, eggs, vanilla sugar, pieces of marmalade.
Spread curd mass in form,
Sprinkle the top with remained bulk mass and put in the oven for 30 min at 180 degrees.
Take out pie, let it cool.
Bon Appetite!