Peach manna cake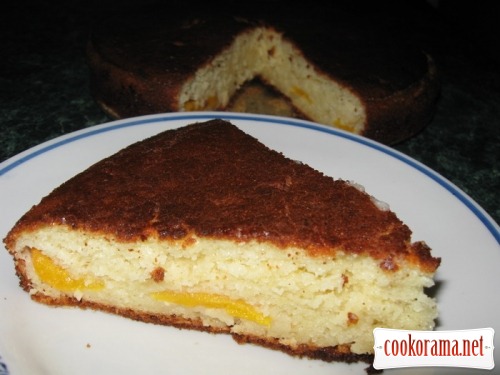 Ingridients
0,5 l
200 g.
2 шт.
300 g.
300 g.
150 g.
300 g.
0,5 tsp.
2 tsp.
Preparation
Mix soda with kefir, curd, eggs, semolina, flour, butter, sugar, salt into smooth mass. You can add juice of canned peaches.
Dough should be thick.
Grease form with piece of margarine and sprinkle with semolina.
Divide dough in two halves. Pour first in form.
Spread on it cut canned peaches.
Next pour the other half of dough.
Heat the oven. Bake at 200℃ for 45 min. Let it cool and eat. (by recipe 220℃ for 1 hour, depends on oven).
The recipe was taken from site:
www.povarenok.ru/recipes/show/24915/
Really tasty, I advise everyone to try.