Invisible apple pie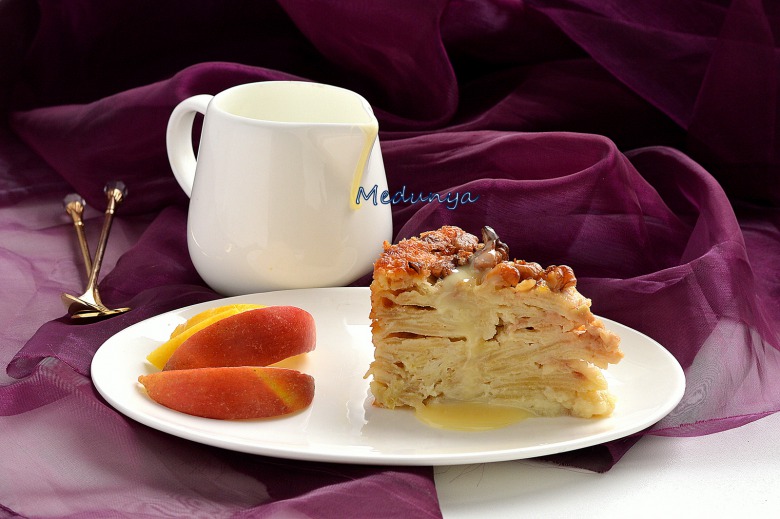 Ingridients
4 шт.
1 spoon
90 ml
10 g.
160 g.
60 g.
3 шт.
2 spoon
2 spoon
3 spoon
Today is an important date for me. Exactly five years ago on this day I registered on March 7 at Cookorama. I liked young and promising Ukrainian culinary site. For some reason I felt the huge potential of this site subconsciously. Over 5 years I grew up with Cookorama. Improved my culinary and photo skills, acquainted with new cooks. Cookoram aduring this time could take confident 3 place ranking among all culinary sites of Ukraine according to bigmir)net. It is very, very happy. And today I want to give all residents recipe og wonderful and interesting «invisible apple pie.» They say thay cake got it`s name because it is hard to see dough, just incredible amount of thin apple slices.

PREPARATION
Mix 2 eggs with 80 of sugar, to get light foam. Mix with baling powder flour in, oil, cognac and milk.
Peel apples and cut in thin transparent slices. You can do this, cutting apples on a special grater. Mix apples with dough.
Cover form of a small diameter (16-17 сm) with cooking paper and pour dough.
Bake for 30 min at 200℃.
While cake is baking, add 1 egg with 80 g of sugar. Mix melted butter in. Remove hot cake and pour filling.Top with nuts. Bake cake for another 10-15 min. After that cppl cake completely and put in the fridge for a night. Serve, cut cake into portions.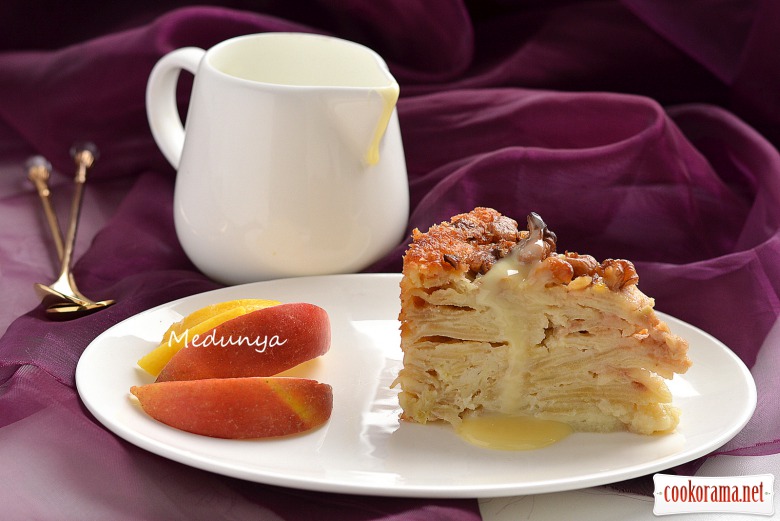 Bon Appetite!