Improved flipcake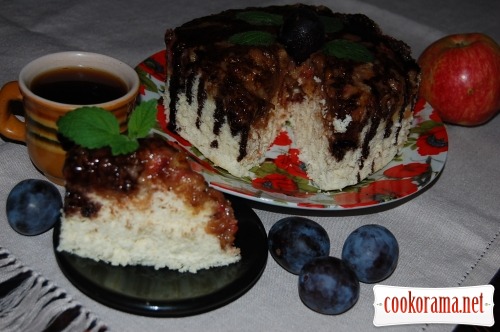 Ingridients
Dough
3 шт.
180 g.
100 g.
0,3 tsp.
Filling
5-6 шт.
1 шт.
1 tsp.
4 spoon
10 g.
0,5 tsp.
Also
50 g.
50 g.
50 g.

From all flipcakes I made during month, this one I like the most.
Preparation
Mix yolks with sugar into fluffy mass. Add flour, soda, lemon acid, збиті mixed in foam whites:
Mix butter, grinded nuts and 50g of sugar into smooth mass and spread on bottom of form:
On top – stuffing from grated apples, cut into pieces plums, zest, vanilla and ordinary sugar:
On top pour dough and bake for 10 min at power of 800:
Flip on plate and pour melted chocolate:
The recipe is very similar to an apple flipcake
Apple flip
but such «tips», as adding soda with lemon acid and mixed in foam whites improved quality of biscuit a lot — it became tastier and puffier. And adding nuts in butter made taste of flipcake original. Lemon zest is also important here.
Bon Appetite!