Braid with cabbage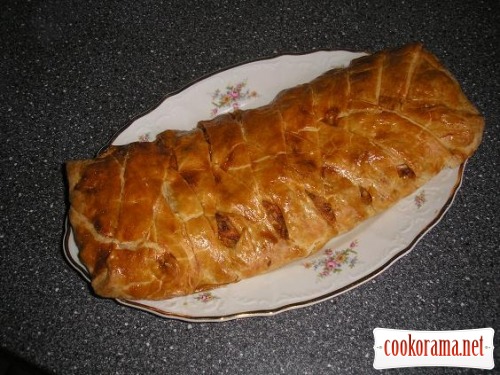 Ingridients
500 g.
2 шт.
0,5 kg
200 g.
100 g.
Preparation
Fry cabbage till readiness. Dice sausage, grate cheese.
Roll dough. It is more convenient to put baking paper in the middle, so it will be easier to shift the braid on a baking tray. Cut dough, as shown in the photo.
Mix a bit cooled cabbage, 1 egg, cheese, sausage and spread this stuffing on the middle of dough. Begin to wrap the braid from cut strips, as shown in the photo.
Shift pie on baking sheet and grease with egg.
Bake in oven at 180°C for about 45 min.
Remove ready pie-braid from the oven, let it cool a bit.