Pizza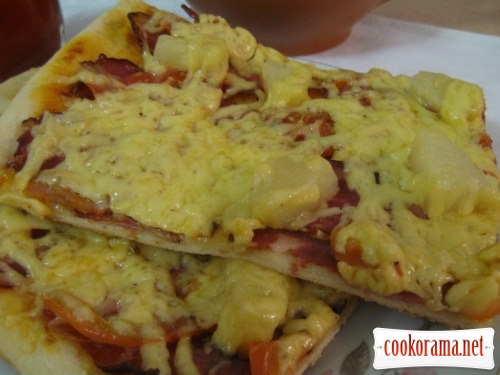 Ingridients
Dough
20 g.
2 tsp.
1-2 g.
1 шт.
400 ml
800 ml
2 spoon
Filling
3 spoon
2 spoon
400-450 g.
2-3 шт.
500 g.
3 tsp.
600 g.

I offer recipe of pizza, which my family like the most.
You`ll get 3 pcs size of 30х35 сm

Preparation
Knead dough: mash yeast, add sugar, 2-3 tbsp of milk, stir it. In 5 min add egg, salt, milk (warm), flour and knead dough, at the end of kneading add oil. Leave for 10-15 min. Meanwhile wash and slice tomatoes, grate cheese, drain pineapples from syrup. I buy already chopped meat in shop.
Divide dough in 3 parts. Roll 1 part of dough in rectangular of 0,5-0,7 сm thick, spread on greased with lard baking sheet.
Stir sauce with mayonnaise, knead dough.
Top with pieces of smoked pork neck.
Next slices of tomatoes, sprinkle with thyme, spread pieces of pineapple.
Sprinkle with grated cheese.
And bake for 15 min in the oven at 200℃.
Cut in portion pieces and eat with tomato juice.
667

15 November 2010, 21:32