Pizza with sausage and oyster mushrooms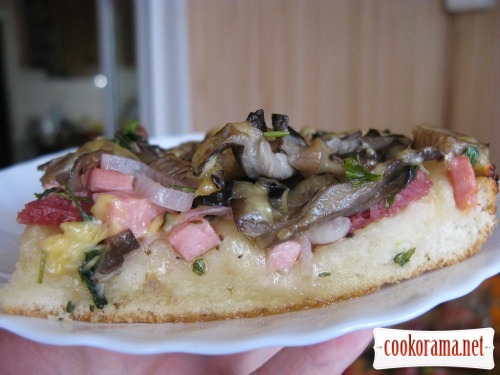 Ingridients
Dough
3 spoon
1 spoon
1 spoon
2 tsp.
1 tsp.
Filling
300 g.
300 g.
100 g.
1 шт.
Sauce
2 spoon
1 spoon
Preparation
Heat a bit water or milk and add yeast, let it stay in a warm place for 10 — 20 min, to make «cap».
Add oil and salt, mix it.
Add half of lour and knead dough, gradually add rest of dough and knead soft, elastic dough.
Cover the dough and let it rise in a warm place for 1 — 2 hours.
Knead dough and spread it in form.
Mix all for sauce and smear our dough.
For stuffing cut into strips or dice sausage and spread on dough.
Slice onions, chop greens, sprinkle the top of sausages.
Cut into strips caps of oyster mushrooms and stew in oil for 10 — 15 min.
Spread in form.
Sprinkle with grated cheese, I don`t have all the 100 g on photo.
Bake in the oven for 20 — 25 min at 180 – 200℃.
Bon Appetite

I got form of 30 * 23, so if you don`t like much dough, take a larger form or make two pizzas.