Brownie on a dark beer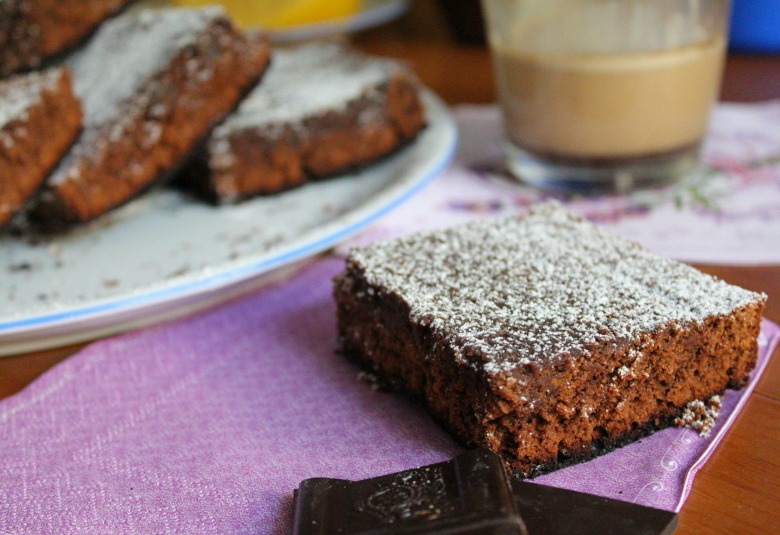 Ingridients
160 g.
30 g.
110 g.
100 g.
125 ml
4 шт.

цукор (note in the description)

400 g.
Hello, dear friends!

Today I offer to warm up with tasty brownie on dark beer!

I want to write that beer can be replaced by strong coffee, but the taste will be slightly different. The recipe is simple, fast and rewarding for the whole family — husband would possibly be quite welcome of opportunity to taste the remnants of heady drink. Or you can use it for the beauty of our hair



By the way, if you decide to treat children with this brownie, you can be calm- alcohol weathers during heat treatment, leaving only incredible flavor

Preparation
1. Mix cocoa, flour and salt.
2. Melt butter over medium heat, remove from heat and add chopped chocolate, stirring till complete dilution.
3. Add beer or coffee.
4. Mix eggs and sugar. The ideal proportion is — 200 g of white and cane sugar, but if you lack of the latter, add only 400 g of white. Mix very well. Mass increases a lot!
5. Add mixture of butter, chocolate and vanilla.
6. Add at the end dry ingredients. We can stir using the whisk or spoon — without fanaticism, just stir.
7. Spread in prepared form. Ideally, it should be square form, as classics of the genre — squares-brownies.
8. Bake at 180℃ for about 30-45 min.
9. You should be careful and bake depending from thickness of dough and from texture of brownie you want. If you like tight brownie, bake till dry match.
10. Leave brownie for a night (even wrap in film). Then all tastes open.
Bon Appetite!
763

21 October 2014, 09:38