Congo Brownies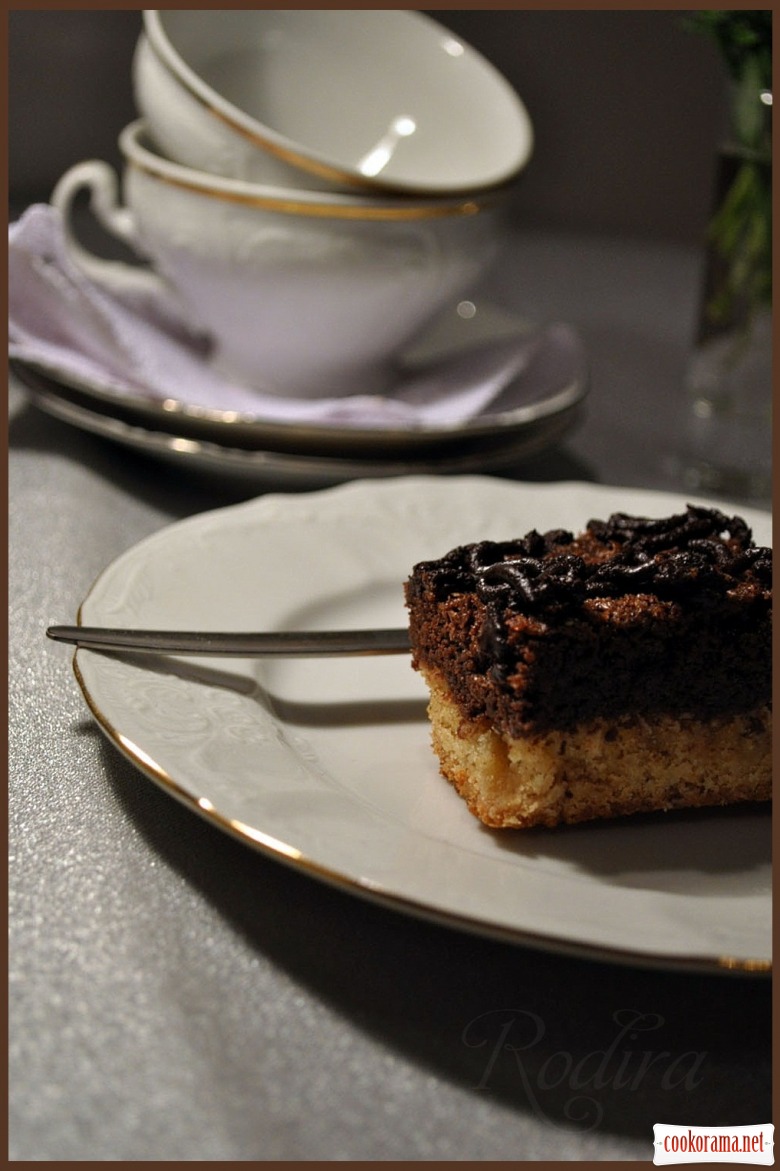 Ingridients
White layer
175 g.
1,25 tsp.
0,25 tsp.
85 g.
225 g.
1 шт.
1 шт.
1 tsp.
115 g.
Chocolate layer
110 g.
25 g.
0,15 tsp.
0,25 tsp.
115 g.
115 g.
260 g.
2 шт.
1 шт.
2 tsp.
Glaze
80 g.
45 ml
These brownies more like truffle sweets or fudge — moist, dense and very chocolate.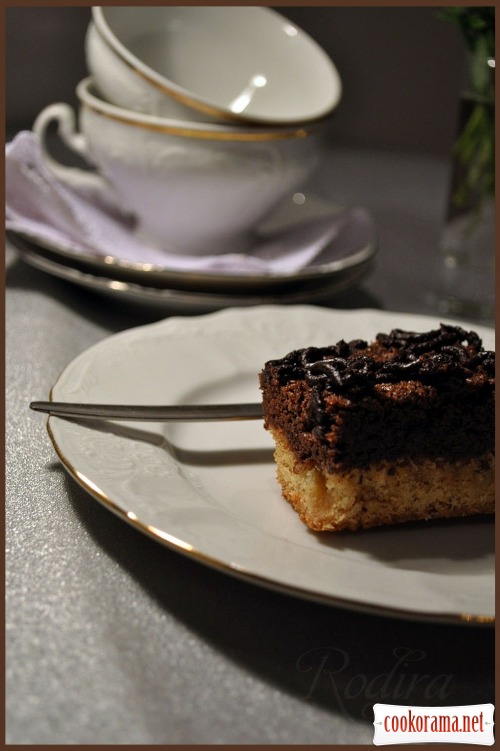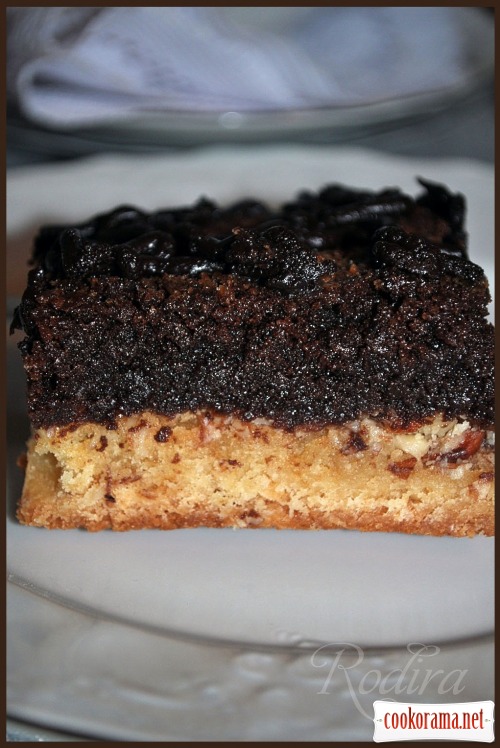 Ingredients for square form 20х20 сm.

Preparation
White layer:
Mix flour, salt, baking powder.
Separately mix butter, sugar, egg and white. Pour vanilla extract.
Combine dry and liquid components together.
You got thick creamy dough.
Heat the oven to 175 ℃.
Grease bottom of form with butter and cover with baking paper,
Grease paper with butter and sprinkle with flour.
Put prepared dough in form and smooth with spatula.
Sprinkle nuts on top and slightly press them in dough.
Put form in oven for about 20 min.
Remove, when surface stops to shine, and edges begin a little retreat from the walls of form.
Remove, prepared in this way basis from oven and let it cool on grid, without removing from form.
While white layer is cooling, prepare chocolate layer.
Melt chocolate with butter in steam bath.
Mix flour with baking powder, salt and cocoa.
Let the chocolate mass cool a bit (for 5 min) and add sugar.
Stir well, to melt sugar. Next, add there eggs, vanilla extract. Stir resulting mass well and add in it flour mixture.
Dough will be thick and buttery.
Carefully put chocolate layer on light layer and gently smooth with spatula. Bake for another 20-25 min.
When surface stops to shine, and skewer will come out from the middle of the wet dough with crumbs — your basis is ready.
Remove baking sheet from oven and put on grid to cool down, meanwhile prepare glaze.
For glaze:
Heat cream, add finely broken chocolate and stir well.
Let the chocolate mixture stand at room temperature — until the mixture begins to thicken. Make an envelope from baking paper, fill with chocolate and cut off the nose.
Put the glaze on the surface of cooled down brownies- if you want like mesh or put any picture.
Let the glaze freeze at room temperature not less than 1,5 hour.
Brownies can be kept at room temperature for 3 days, pre-wrapping form with film.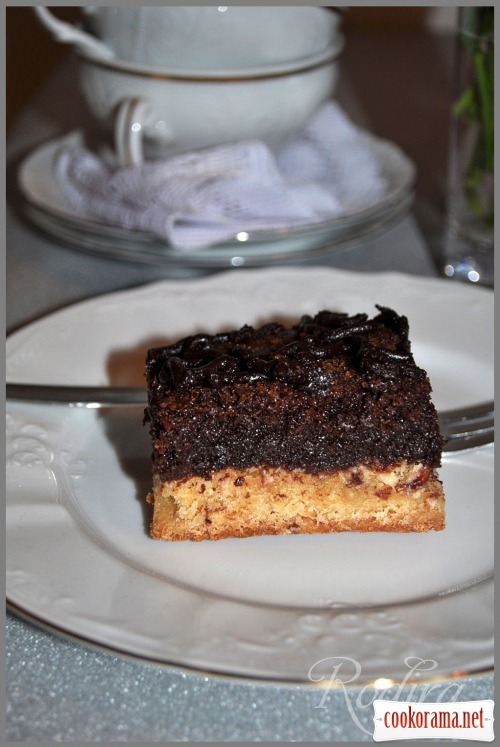 My comments:
Brownies are prepared quiet easily, there are no any «pitfalls» here.
You can use any nuts.
It is most comfortable to flatten dough with silicone spatula.
I put glaze with silicone confectionary «dropper» — very convenient.
Yes, during baking was dizzying chocolate scent!!!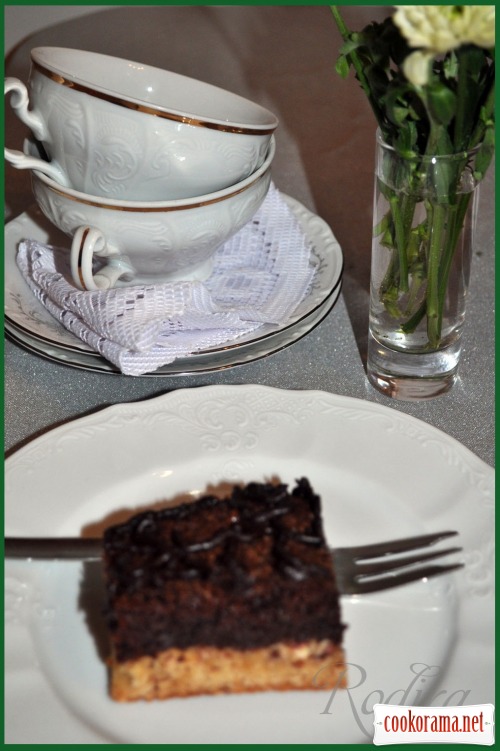 Source
Bon Appetite!!!