Baskets with white custard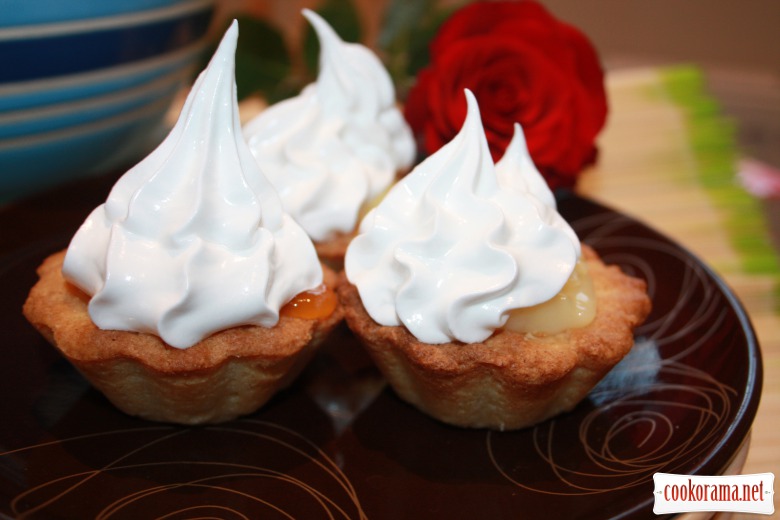 Ingridients
250 g.

sugar (for cream 250 g, 100 g for dough)

350 g.
1 tsp.

eggs (1 for dough, 3 for cream)

4 шт.
0.5 tsp.
1 spoon
85 g.
150 g.
1 tsp.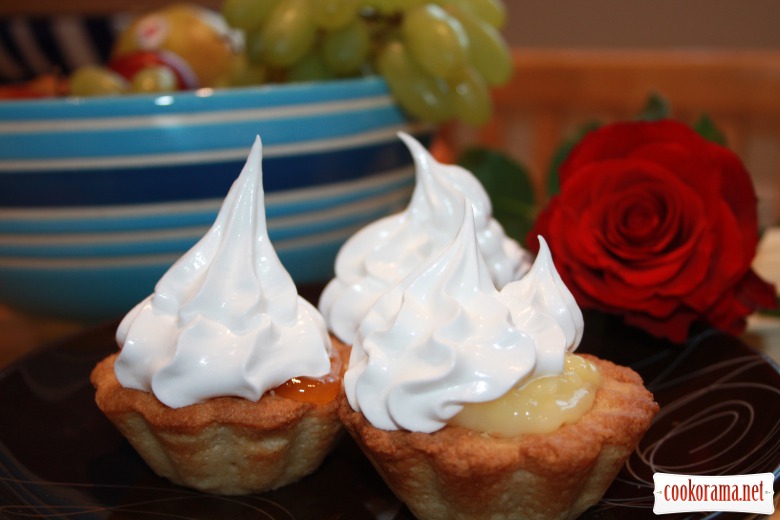 As part of my new blog «Charity little market in town,» I decided to make these baskets with classic custard white cream. For the filling I used apricot jam and lemon curd (see. Cake recipe «Vanilla Biscuit with butter cream ").
You can take fresh or canned fruit or berries or your favorite jam / marmalade.

Preparation
For dough: mix butter with sugar into fluffy mass, add egg, sour cream, well sifted flour, baking powder, vanillin and knead dough. Wrap ready dough in film and put in the fridge for 1 hour. Cut off circles from ready dough and put in molds (for small cakes or tartlets). Do not grease molds, but if yours "burn» better slightly grease with oil or butter. Pierce with fork each basket and put in freezer for 3-5 min. Bake at 200℃ for 7-10 min (only light brown).
Mix whites into stable peaks in ideally clean bowl, without any fat (better wash with boiling water).
Put saucepan with water and sugar over medium heat and boil syrup (should be only a slight tinge of caramel, a transparent and thick syrup, if syrup gained brown or golden color, it does not fit, you overboiled it

we must watch carefully, because sometimes it is a matter of several seconds between the ideal and overcooked). You can still do the test for «balls» in ice water.
Carefully pour the hot syrup in a bowl to whites by walls, stirring, add citric acid and stit for another 5-7 min (at maximum power of mixer).
Ready cream should be smooth and shiny.
Fill baskets with stuffing of your choice, top with culinary syringe or use package to do a «sockets», you can sprinkle with candied fruits or nuts or chocolate.
Bon Appetite!!!
P.S. I hope people enjoy these baskets at the fair