Colored pancakes with caramel orange and mascarpone cream
Ingridients
500 ml
3 шт.
200 g.
2 spoon
70 g.
1 шт.
20 g.
100 g.
Preparation
Mix egg with salt and sugar, add milk, gradually pour flour, constantly stirring. At the end add butter.
Pour dough in 3 bowls. For red pancakes, add beetroot juice in dough. Just grate beetroot, and by hands squeeze juice in bowl with dough. Use turmeric for yellow pancakes. For green frozen spinach. Put 20 g of spinach in boiling water for a minute, next grind in blender with dough. Look by your own proportions of our natural dyes, add, stir, and analyze the result. Then bake as usual pancakes.
Peel orange, cut off pulp with knife, leaving hard partitionings. Pour few tbsp of sugar in dry pan, once it melts add piece of butter, stir well and cook to slightly darken the mass. Next add in caramel sliced orange, cook for a minute and remove from heat.
Now cream: Mix yolk with sugar into white in blender. Next add cheese and mix into smooth mass. Cream is redy.
Then fill pancakes with orange stuffing and cream, pour chocolate, sprimkle powder and eat.
Bon Appetite!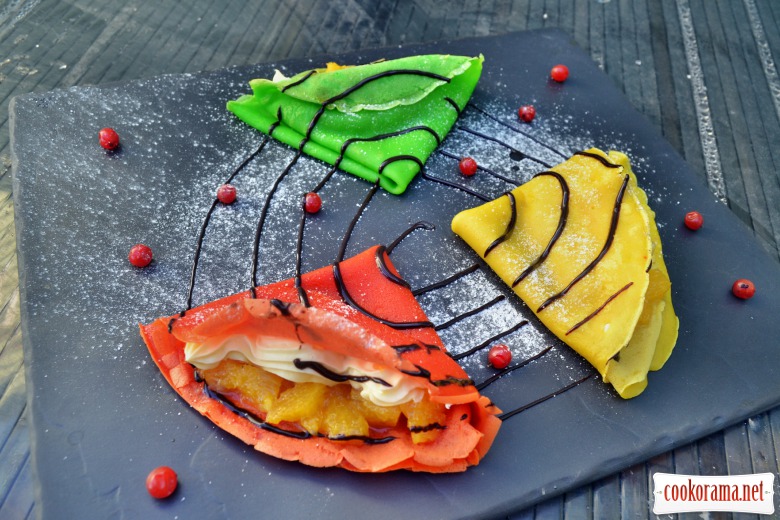 Top of recipe "Colored pancakes with caramel orange and mascarpone cream"