Cake in microwave "Cherry on snow"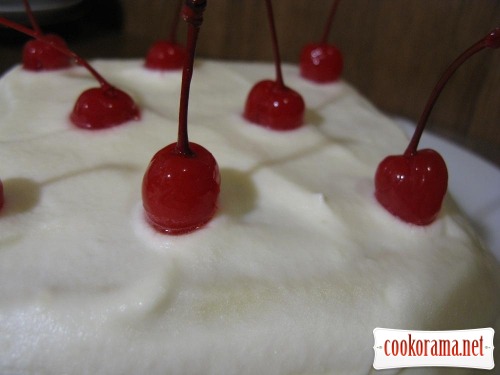 Ingridients
Dough
4 шт.
1 glass
100 g.
3/4 glass
0,5 tsp.
0,5 шт.
Cream
300 ml
200 ml
Ingridients

maraschino cherries (for decoration)

canned cherry (for slightly sour taste)
Preparation
Whisk or mix the eggs.
Add sugar and mix well again.
Add the rest of ingredients for dough and knead well, melt the butter before adding it.
Grease the form with butter and sprinkle with flour, pour the dough.
Bake for 7 min at full power, I got 800. Do not cover with lid.
Cool it and cut horizontally in half.
For cream mix sour cream and sugar well till thickness.
Smear the lower flat cake with cream, spread cherries, cover with the other half of cake.
Add the rest of cream on top, spread it, also smear the sides.
Decorate it as you wish, I used cocktail cherry.
Let it stay for soaking.
Bon Appetite

I made cake for a half of portion, so baked it for 4 min.