Okroshka with kefir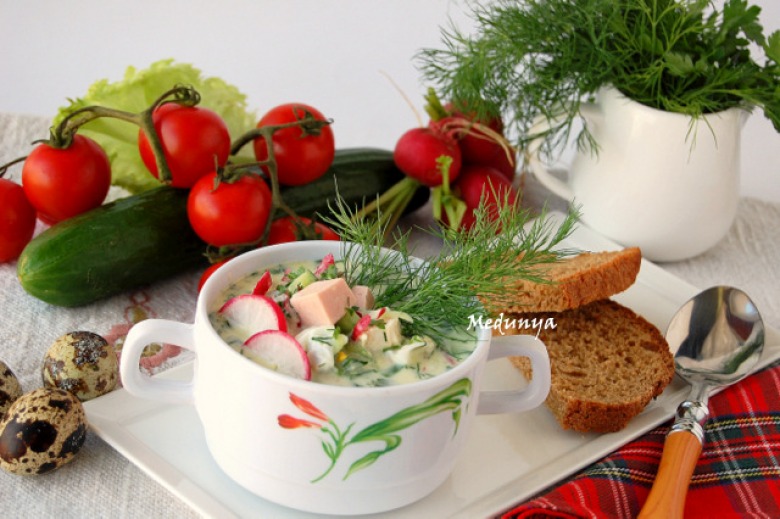 Ingridients
3 шт.
1 bunch
1 bunch
5 шт.
200 g.
200 g.
3 шт.
150 g.
200 g.
1 l
20 g.
1 bunch
3 шт.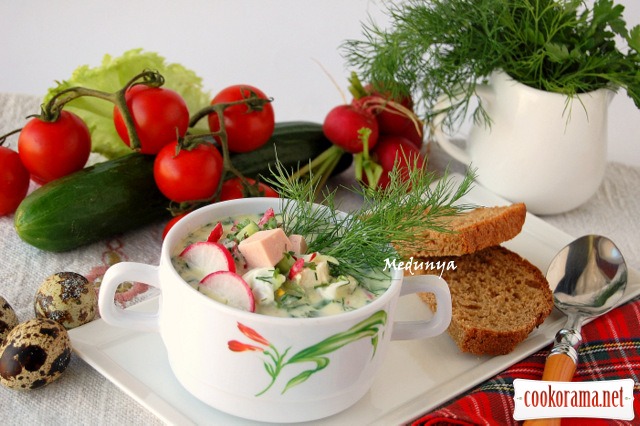 Okroshka — popular dish of Russian cuisine. Originates word «okroshka» from the verb «dice» because it is finely diced vegetables, poured with cold liquid. Traditional basis of okroshka is considered kvas, although the old days it was poured with cucumber or cabbage pickle. Today for okroshka use sour milk, kefir, yogurt, mineral water and even beer. For summer okroshka is an ideal decision: First, it is perfectly refreshing on a hot day, and secondly, it is not necessary to boil, so the vegetables kept vitamins. What can be on it? The most popular products for okroshka — cucumbers, carrots, radishes, herbs (parsley, dill, green onions) and boiled potatoes. Also okroshka can be prepared with boiled meat, chicken or fish. Boiled eggs and sour cream is usually added directly before serving.

PREPARATION
Wash greens, chop them.Add salt and rub well.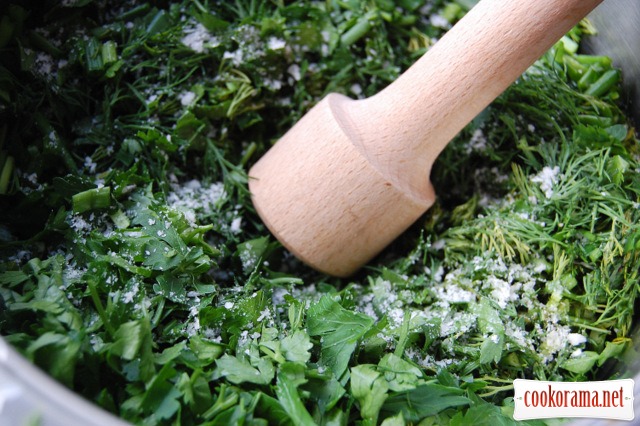 Grate radish and half of cucumbers. Dice the other part of cucumbers.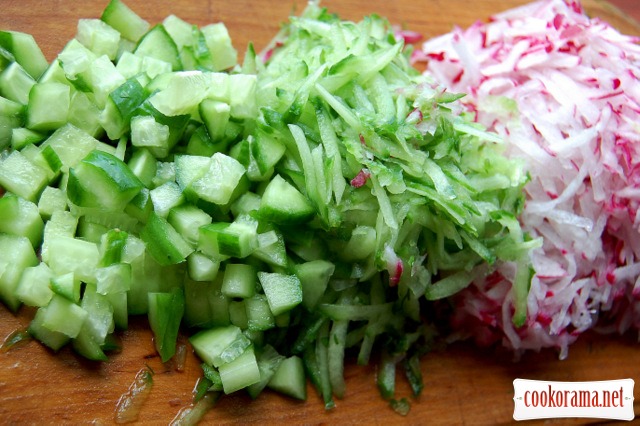 Chop boiled meat and boiled sausage.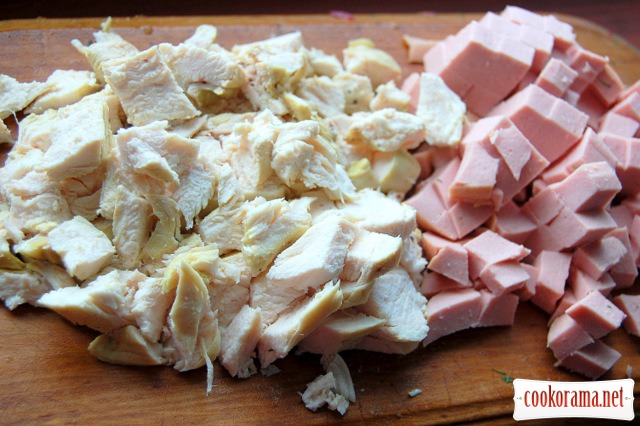 Add chopped whites of boiled eggs.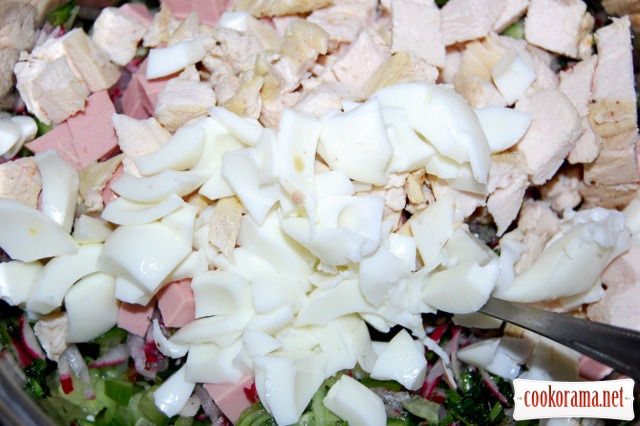 Mix boiled yolks, mustard, salt, sour cream, ground pepper. Add all this to okroshka: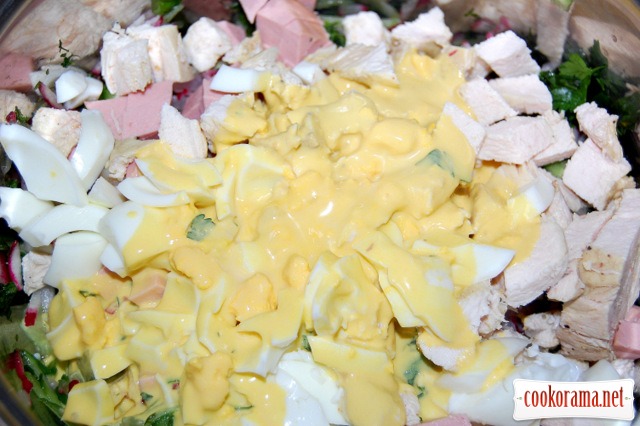 Boil and dice potatoes in jackets.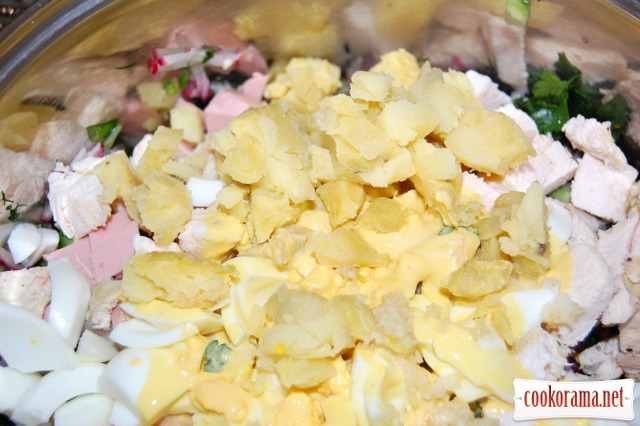 Pour kefir, mineral water, mix and put in the fridge for a few hours.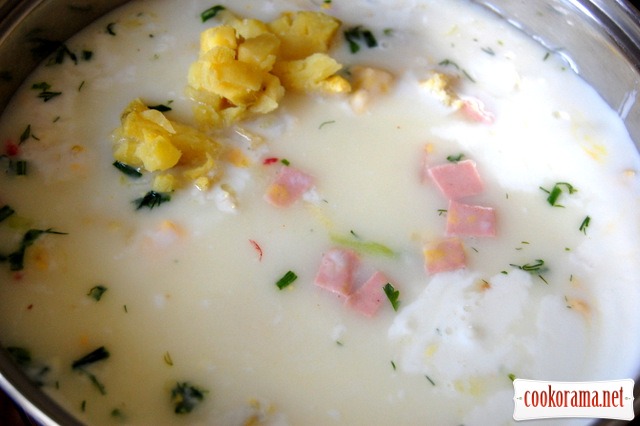 Enjoy it.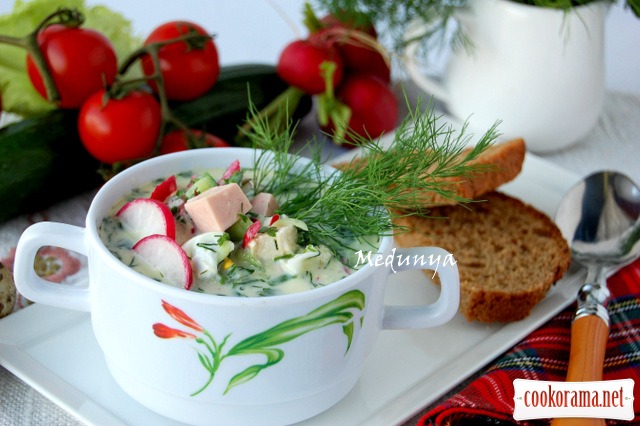 Bon Appetite!