Assorted aspic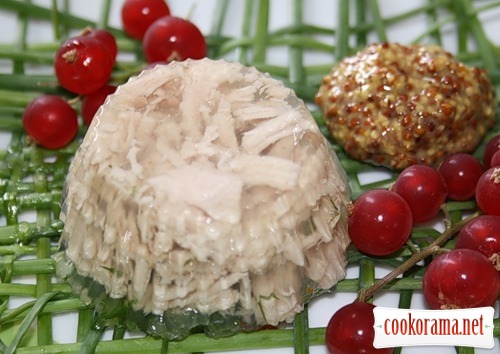 Ingridients
Ingridients
1,3 kg
3 шт.
1 шт.
1 шт.
1/8 шт.
6 шт.
Decoration
Preparation
Cut pork leg,if necessary, in half, scrape with a knife well. Fold in a large saucepan, pork and chicken thighs, cover with cold water. Bring to a boil, remove the foam and cook over low heat almost without boiling for 5 hours, until pork will not be easily separated from the bones.
An hour before the end of cooking put not cutting roots, salt and pepper to your taste.
By the end take meat into pieces and drain broth through a colander. Add dill in broth. Put meat in molds, pour with broth and in the fridge for a night.
Weave mat from green onion, spread aspic on it, spoon of mustard, decorate with red currant.
Bon Appetite!