Linguine with the simplest tomato sauce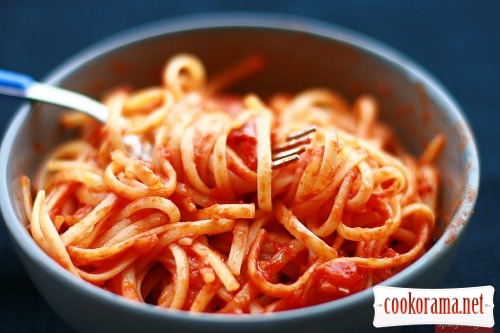 Ingridients
200 g.
4 шт.
2 шт.
1 шт.
50 g.
Try to prepare this dish, and you'll never buy a tomato sauce in can. All you need to do is spend 5 minutes trying to remove the peel and clean the seeds of tomatoes. And even then, this is not required, but if you use canned tomatoes in their own juice, then certainly. Start to cook the sauce for 2 minutes before the pasta prepared. There is nothing easier.


Preparation
Put to cook the pasta in a large pot of boiling salted water. Remember, the paste should be cooked to a state of al dente, that is, be a little tight in the middle. To do this, I recommend to try the pasta during cooking, because the instructions on the packaging can not always be true. As a rule, the cooking process takes 5-10 minutes, depending on paste.
Clear tomatoes from seed and peel (optional) and finely chop, or open a jar of canned tomatoes. Crush the garlic cloves with the flat side of a knife, and then easily clean them and finely chop. In 5 minutes prior to readiness of pasta put on a strong fire pan, add a tablespoon of olive oil, garlic and crumble with hands chili pepper. Wash hands.
As soon as the garlic begins to sizzle and fry, add tomatoes. Season with salt and pepper and cook, stirring, 2 minutes.
Fold the pasta in a colander, save a little bit of water in which it was boiled. Remove the pan with the sauce from heat, add butter. Then paste is sent to sauce and 2-3 tablespoons of water in which it was boiled. Energetically stir and serve all.
Maybe someone of you pay attention, in this recipe I did not include green basil, which is an essential ingredient of Italian tomato sauce. I wanted to leave everything as easy as possible and not to disturb the balance. I love when in sauce tomato is felt, when their pronounced acidity softens with sweet butter. When all you need for tomato sauce, is pasta.
Simple, fast recipe, I want you to enjoy it and inform me, how it was. Throw away sauces in jars, let's cook healthy, delicious and quick.
493

25 August 2010, 00:56