Homemade melted cheese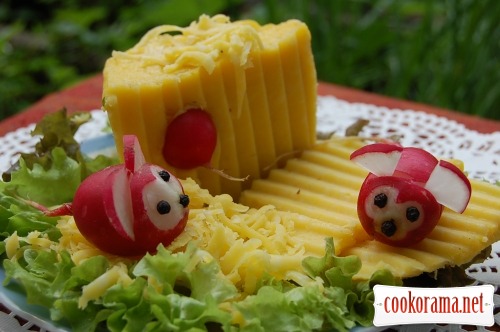 Ingridients
1,2 kg
1,5 l
3 шт.
0,5 tsp.
1 spoon
200 g.

Delicious cheese from home products without any chemicals, dyes, preservatives and substitutes. Expensive, troublesome, long, but stubbornly natural. Wanna try?

Preparation
Boil cheese in milk for 7-10 min on a low heat. Let it cool. Better to boil at night, and continue to cook in the morning (I do not know why, but it always turns out better). After complete hardening, squeeze the resulting mass well.
Put in bowl and add butter. Mix all well on heat to get smooth mass:
Mix eggs with soda and salt and also add in cheese mass:
Boil for 5-7 min on low heat till thickening:
Put in form and leave for 1-2 hours till complete hardening. Then cut and enjoy it:
This is a basic recipe.
If you wish you can add to cheese mass your favorite spices, dried grass, red pepper, ham, marinated mushrooms, pickled vegetable mixture (such as Bonduelle), etc. You can make a dessert option without salt, with sugar and berries. There will always be a different flavor. Met in the Internet a lot of such cheese recipes. Cook different. This one is the tastiest. Recipe shared secretly saleswoman at the market, which sells it its among other dairy products. She has regular cheese merchants and good sales, though all «know how to make this cheese ». It`s not cheap-30 USD for 0,5 kg- it`s not a low price for us. But it`s tasty – so everyone buys.
.
Bon Appetite!