Genoese focaccia with rosemary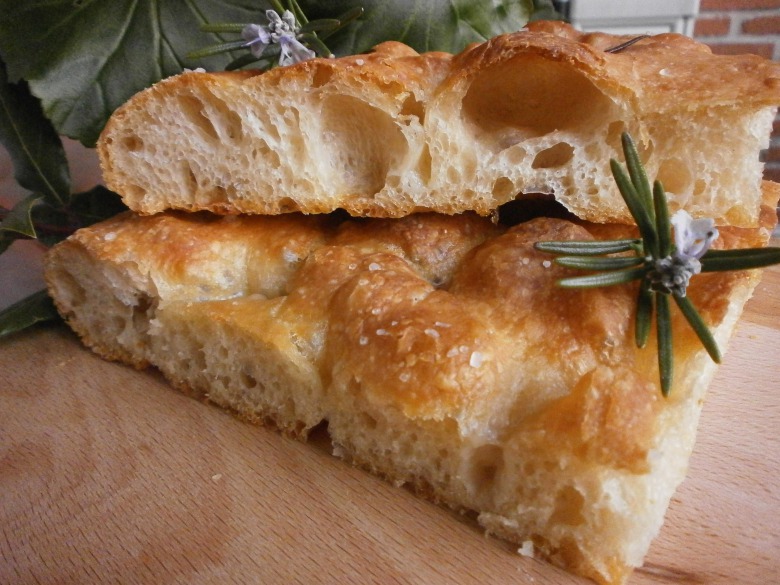 Ingridients
500 g.
7 g.
350 ml
10 g.
1 шт.
4 spoon
As you already know, «focaccia» — a flat Italian bread. In Liguria is prepared a special focaccia. Kids love it with milk for breakfast. We also enjoy with cappuccino. The peculiarity lies in generous lubrication, you can say «flooding» of dough before the final proofing of water with olive oil. Correct focaccia should be at height of 3 to 5 cm. In Italy, also, there are rules. And of course, the use of olive oil from Liguria and Ligurian sea air gives an unforgettable taste of focaccia!
I suggest you to cook such focaccia.

Preparation
First we need to dissolve yeast in 100 ml of warm water.
Sift flour into a bowl, make a hole. Pour in center a little of residual water, pour yeast with water. Start knead dough with a wooden spoon from the center. Gradually add flour and top up with the remaining water. Add salt and 2 tbsp of olive oil (oil). Knead soft dough. Slightly grease walls of bowl with olive oil, place the ball of dough, cover with foil and place in refrigerator to the lowest level for 18 hours or more. In 2 hours before the start of work with dough, get the bowl from the refrigerator and give some time for dough to warm up to room temperature.
Grease baking sheet with olive oil, spread dough and stretch by hands to a desirable form. Let it rise for 20 min.
Prepare «filling». Mix 1 tbsp of olive oil with 2 –tbsp of warm water.
Make deepening in dough with fingers, lightly pushing. We get elongated dimples. It is advisable not to tear dough, it is very tender.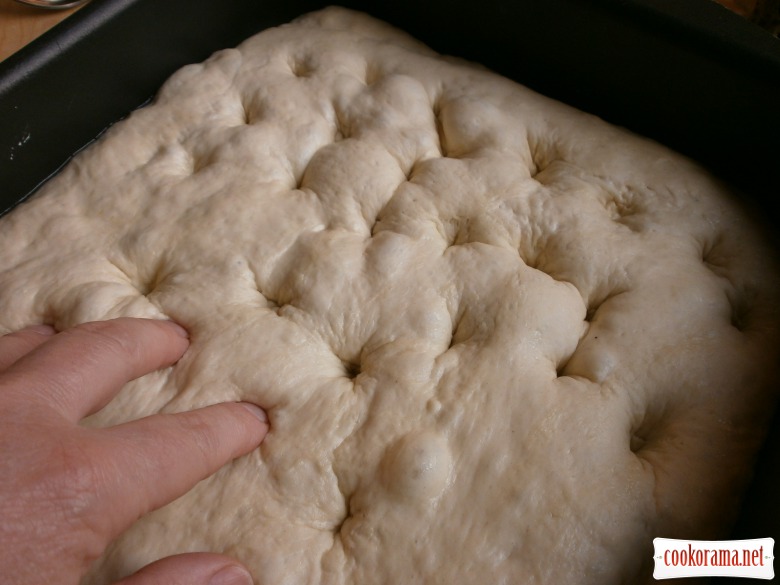 Grease with spoon or brush the surface of focaccia «pouring» out water and olive oil.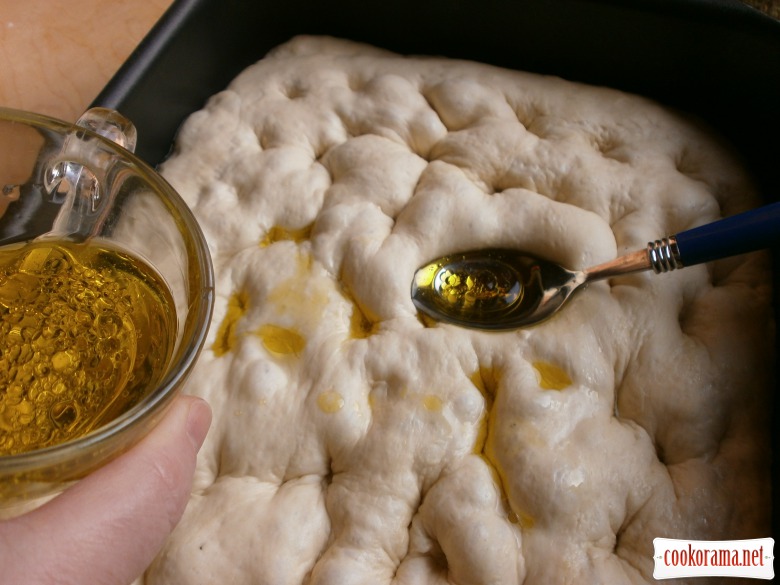 Sprinkle the surface by coarse sea salt. Let it rise for 20 min.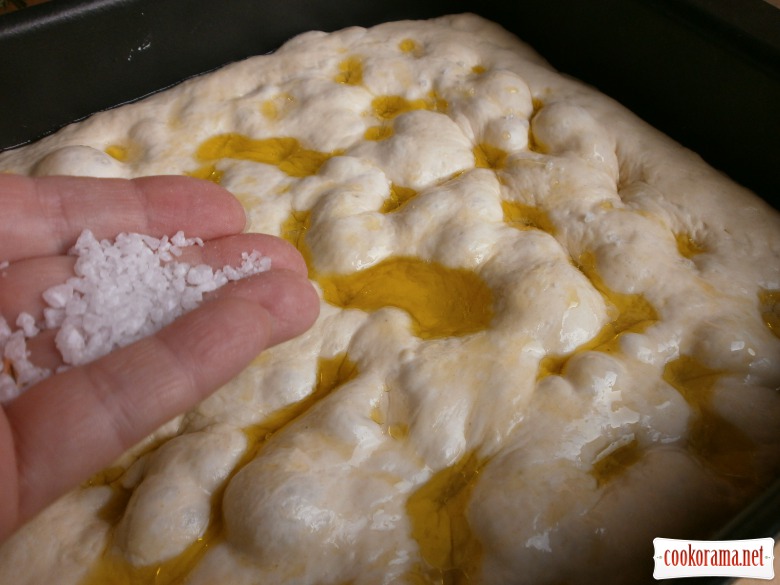 Sprinkle with rosemary or dry rosemary. Preheat oven to max temperature. I have 250 degrees.
Put the pan on the lower level. Bake Focaccia first 15 — 18 minutes on the ground heating.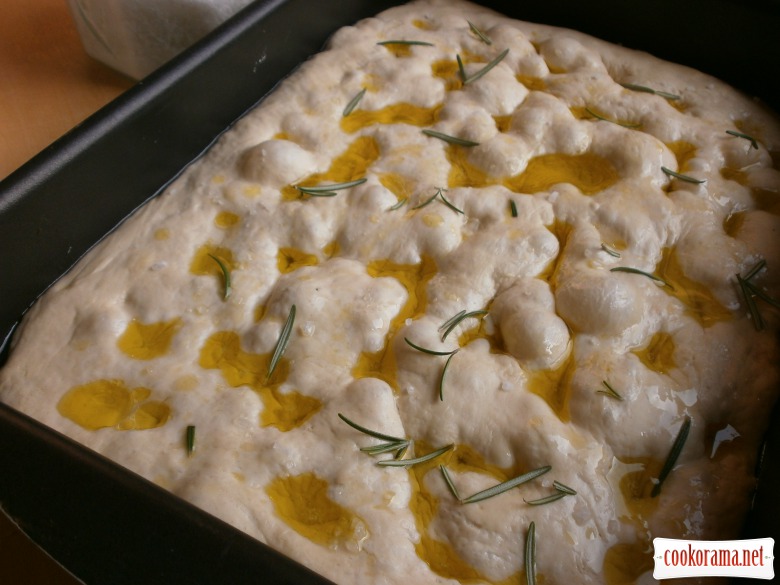 Then reduce temperature to 220 degrees, put trays to medium oven. Turn on «top — bottom» mode and bake until tender, until golden brown.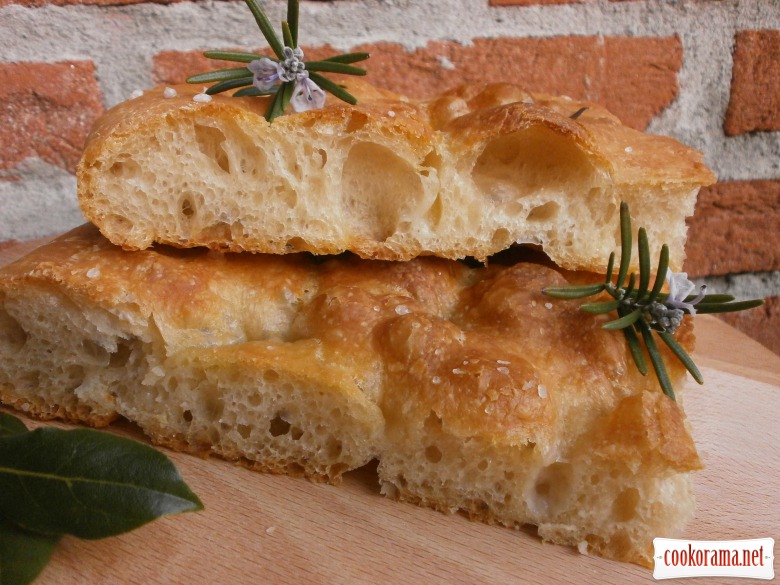 It turns out such a beauty — focaccia. Further, as you wish. It can be cut — horizontally and filled with cheese, ham.
Bon Appetite!