Pancakes with various fillings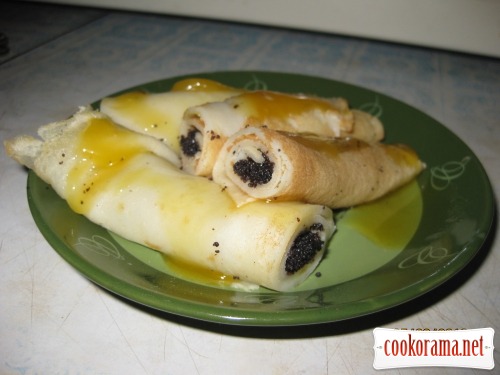 Ingridients
2-3 spoon
300-350 g.
2 шт.
2 spoon
Preparation
Se mixer to stir all..you should get not very liquid and not very thick mass..like this one
Fry it.You`ll have such pancakes.
Filling can be different: with apples, with cheese, with poppy..if pancakes are not sweet, then with meat, mushrooms..as you wish...I made with apples and poppy…
Grind poppy, pour with boiling water, cover with plate and leave for 10 min, then add sugar and mix. Such a first filling.
Slice apples.Pour some water in pan..add sugar..mix and add apples..it is ready,when apples are a bit hard inside..and the second filling is ready…
Put filling on pancake and roll it..do the same with other pancakes.
Here are with pples
а ось з маком