Pancakes "For Shrek"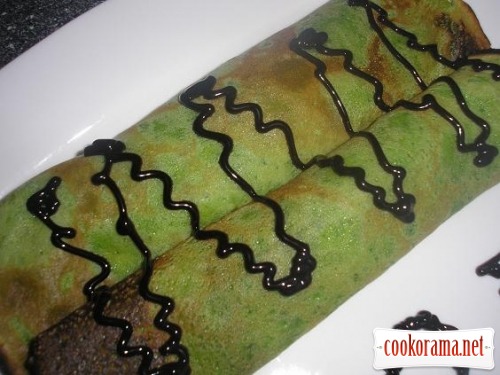 Ingridients
5 spoon
0,5 l
5 spoon
1 шт.
1 bunch
4 spoon
2 шт.

The idea of green pancakes I have peeked at Al_raune. Kid liked very much.

Preparation
Smash spinach with egg in a blender.
Add to this mass 3 tbsp of sugar, you can add vanillyn.
Add flour, milk, oil and mix all well. Cook pancakes.
Peel th eapples, cut in small pieces. Pour apples in the oiled pan, sprinkle with 2 tbsp of sugar and fry over a low heat for 10 min.
Spread some apples on ready pancake, roll in tube (or envelope).
Pour pancakes with melted chocolate (I poured chocolate topping).