Appetizer of salted salmon with rice, cherry tomatoes, omelet and sauce Caesar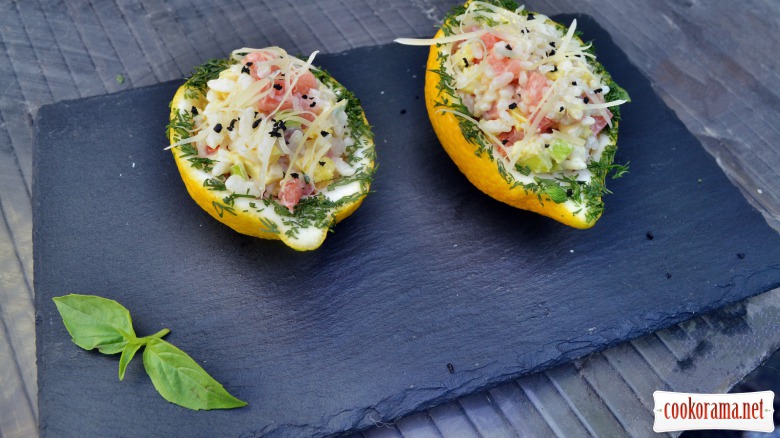 Ingridients
2 spoon
25 g.
1 шт.
1 шт.
5 g.
1 шт.
25 g.
5 g.
Preparation
Boil rice until tender, put in colander and wash. Take egg, drain part of white and whisk yolk with the rest of white. I removed part of white, for omelet become more yellow, and finally get a good contrast. Cut cherry into quarters, cut out the seeds and dice pulp at approximately 4-5 mm.
Also dice salmon, leeks, omelet.
Cut lemon along in half, remove pulp, peel it. Water edges of lemon and roll in chopped dill.
Caesar sauce can be bought, you can make it by yourself.
There are a lot of variants of it, I will give one of them right now. Put in a glass of hand blender, 2 tsp capers, herring with fillet 15 g, garlic — 1 clove, 1 tbsp grated Parmesan cheese, 2 tablespoons of light mayonnaise and 2 tablespoons of heavy cream. Grind all until smooth. If there is not enough salt — add herring.
Dress our snack with sauce, put in halves of lemons, sprinkle with Parmesan cheese.
Bon Appetit!
Top of recipe "Appetizer of salted salmon with rice, cherry tomatoes, omelet and sauce Caesar"