Carp on vegetable cushion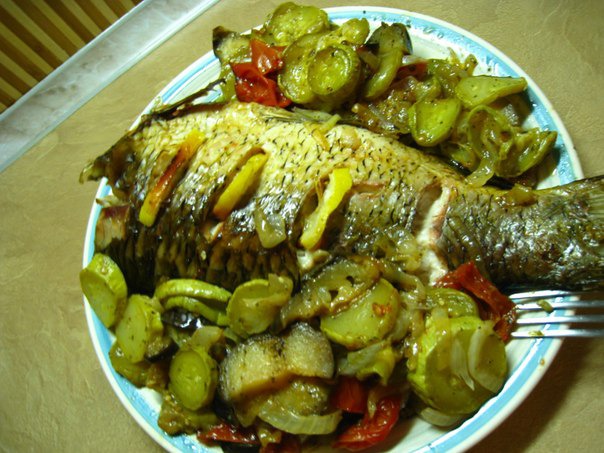 Ingridients
1 шт.
1 шт.
1 шт.
1 шт.
3 шт.
1 шт.
150 ml
Preparation

Clean carp, clean from scales, cut head off, wash well and soak in cold water for 30 min.

Slice all vegetables, only tomatoes cut in quarters, add salt, pepper and herbs, oil and lemon juice. Stir all together well.
Put vegetable mix in baking bag.

Salt carp a bit, sprinkle with lemon juice and put in belly some tomato slices and sliced onion. (you can also add grated carrot)
Make on top not deep inclined cuts, sticking lemon slices. Gently spread fish on vegetables.
Slightly top fish with oil — 2 tsp.
Bake in well heated oven at 180℃, for 45 min, till golden crust.
In 15 min before end of baking, cut bag, so that fish can brown well.
579

27 October 2014, 16:13